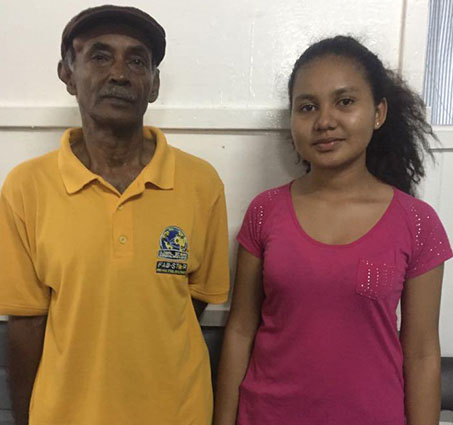 One of the country's top female junior chess players Nellisha Johnson said yesterday she was grateful to Minister Valerie Garrido Lowe for her intervention which resulted in her being included on the Guyana junior chess team to compete in the CARIFTA Chess tournament in Suriname.
Johnson was initially omitted from the team which is set to leave Guyana this morning to compete in the tournament.
"I felt hurt when I saw a post on Facebook of the team yesterday [Tuesday] and I began to cry since I was confused because I was not selected," Johnson who visited Stabroek News yesterday along with her coach Roy Sharma recounted.
The Christ Church student said she called her coach who was also equally baffled as to why she was not selected since she is among3t the top three female junior players.
According to Sharma, reigning national senior chess champion and coach Wendell Meusa was tasked with selecting the team for Suriname.
"Meusa contacted the selected players two weeks ago and claimed that he did so via e-mail and we were not contacted. However, Meusa has been in communication with me via Facebook and phone calls so his excuse is not valid," Sharma declared.
According to the duo, it is only after contact was made with Director of Sport, Christopher Jones and Minister within the Ministry of Indigenous Peoples Affairs, Garrido-Lowe that Johnson was drafted into the team.
Sharma, who said he has over 30 years coaching noted that
players who had not taken part in the National Junior Championship nor the Junior Qualifiers were named on the team and not Johnson.
Some players on the team were also beaten by Johnson, Sharma claimed.
Johnson said it was hard for her to focus, stating that she was exhausted after having only one day to get her documents in order and prepare to travel at 03:00h this morning.
She praised Minister Garrido-Lowe for her intervention which she believes made it possible for her to be included on the team at the last minute.
The young team comprises of 12 players from St. Stanislaus College, Marian Academy as well as the Albouystown Chess Club.
The National Junior Chess Team is spearheaded by newly crowned National Junior Champion Joshua Gopaul, fellow St. Stanislaus Chess comrades Ghansham Allijohn, Jaden Taylor and Chelsea Juman. Also, Sasha Shariff, Ethan and Ronan Lee of Marian Academy, along with Keon Scott, Tyrese Kirt, Cleyon Andrews and Tyreese Lucas from the Albouystown " Open Mind" Chess Club. Also in the mix is up and coming sensation from the hinterland region, Johnson. The team will be coached by veteran National Coach, Meusa and Assistant Coach Orel Richardson while the Team Manager is John Lee.
This is Guyana's first time participating in this event and at a courtesy call Tuesday, Assistant Director Brian Smith wished the team best of luck on their journey, stating he was proud of them and advised them to make their country proud.
President of the Guyana Chess Federation James Bond, also gave his best wishes and regards to the players. Bond said that from the federation's perspective, they wish to develop the sport among the younger generation and this contingent somewhat exemplified this aim.
Bond also expressed gratitude to the National Sports Commission for assisting the team in their preparation. The Games are expected to run from today until April 3.
Around the Web