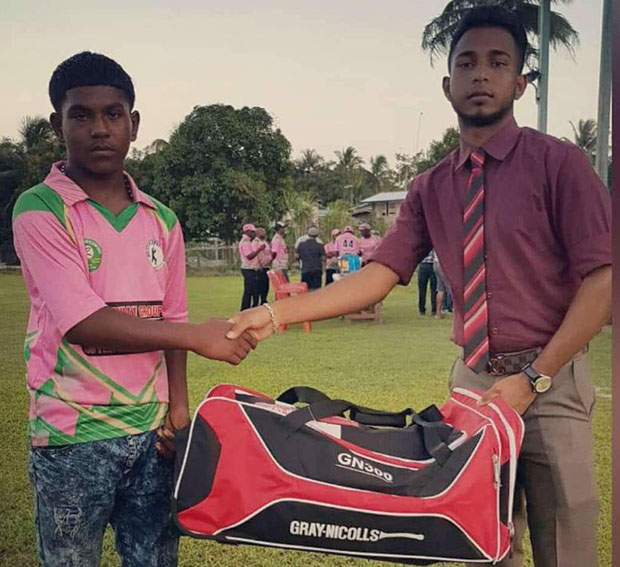 Guyana Cricket Board (GCB) Secretary Anand Sanasie and former Guyana U17 and U19 captain Travis Persaud recently donated a quantity of cricket gear to U15 cricketer Nicholas Rajpat.
At a simple presentation ceremony at Rajpat's Club, Bellevue Sports Club, West Bank Demerara, the up and coming star was presented with a Grey Nichols bag of gear by Persaud.
He also received a Sachin Tendulkar branded Adidas bat from Sanasie who is also president of the West Demerara Cricket Association (WDCA).
Present were club members who were integral in the organisation of the ceremony, family and close friends of Rajpat.
Sanasie spoke of the importance of having people who genuinely care to help push the development of one's game.
He pointed to the development of cricket in the area which he said has continued to rise year-after-year adding that he was proud that West Demerara had produced a young cricketer of such quality.
He encouraged the 14-year-old, who was recently selected in the Guyana U15 team for the regional tournament currently underway, to continue striving for greatness adding that he hoped Rajpat would capitalise on his opportunities.
Persaud, who led Guyana to back-to-back titles on foreign soil stressed on the importance of Rajpat's selection and pointed out that this was only the beginning.
He urged him to continue excelling stating that once he did, brighter things were in store for him.
Persaud advised Rajpat to remain focused on-and-off the field and give a good account of himself when on tour and to represent his country well.
Chairman of the Selection Committee, Omar Hussain, congratulated Rajpat on his selection in the Guyana U15 team and urged  him to be disciplined at all times.
Rajpat, in brief remarks, thanked Sanasie
for the bat and Persaud for the words of encouragement and the gear.
Rajpat, a wicketkeeper/batsman has dominated the Demerara Inter-Association and GCB Inter-County U17 tournaments, playing for the Select U15 side. He also represents Bellevue SC and Endeavor Secondary school.
Sanasie, a Cricket West Indies Director, also presented Bellevue SC with a net for their training sessions.
Around the Web