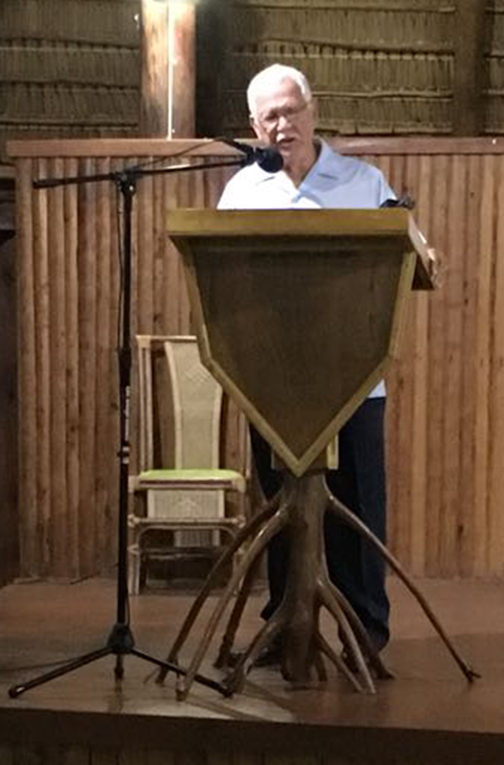 The Guyana Sports Hall of Fame was officially launched last evening at the Umana Yana, Kingston with the aim of creating a collection of sporting memories that will transition throughout the ages.
The iconic voice of veteran commentator, Joseph "Reds" Perreira chaired the monumental occasion whose in depth knowledge of Guyanese history in sports is arguably unchallenged.
Reds welcomed the various representatives from the respective federations and acknowledged stalwarts in their disciplines whose names were synonymous to their sport, such as Hassan Mohammed who is dubbed the father of cycling, as well as Deputy Director of Sport, Melissa Dow-Richardson.
Chairman of the Hall of Fame, Rayman Williams, who has been an administrative servant across a number of sports in the country, articulated the impact the Hall will have on the wider cross section of society, not only locally, but as a medium for the development of Sport Tourism.
Williams noted that the incorporated company is a non-profit organization that will be perpetually ongoing, as members will only serve for five years, with fresh faces taking over, as he opined that no member is in it for any accolade or gain.
Guest speaker, Donald Sinclair who ventured more in detail to the ideology of sporting tourism indicated that this was a bridge that related travel with sport and sport with travel. Sinclair gave his vision of seeing a museum similar to that of countries such as Brazil, which proudly display the likes of "King" Pele and others, and reminiscent of Reds' recollection of their being only two of this nature in the Caribbean with the other one being in Trinidad and Tobago, which is funded by Citizens Bank, an idea which he bestowed on the administration of the Hall of Fame as they seek development.
Alan La Rose, who is also well known in the sporting fraternity in Guyana, called for there to be more accessibility to, and better keeping of, records of the various disciplines, something that is not limited to sports in this country.
The Deputy Director of Sport, who was hailed as being a visionary for women in sport, having represented Guyana in two disciplines, reminded those in attendance of the cause and the need for something of this nature that will help generations to come to get a feel of their heritage.
Around the Web