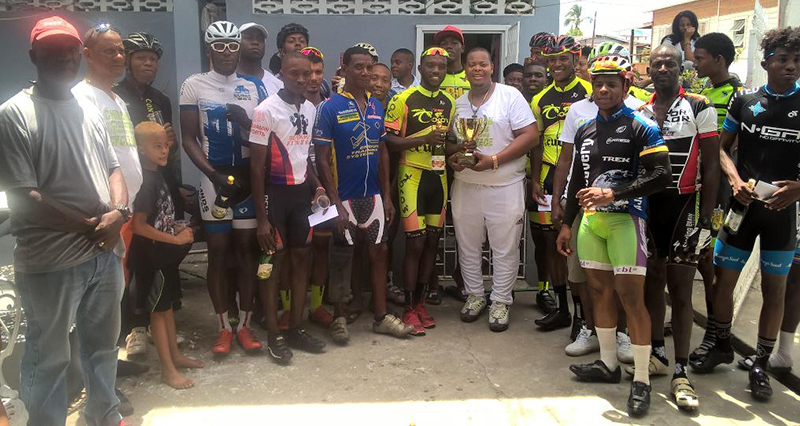 Hamzah Eastman pulled off yet another display of dominance and led a good outing by Team Cocos as he outsprinted a 10-man dash to the finish line at Grove, East Coast Demerara in the second edition of the Chin Chan Cycling,  52-mile Road Race yesterday.
Eastman finished in a time of two hours, 27 minutes and 18 seconds which saw him claiming four prime prizes.
Eastman now sits as the undisputed king of the event despite the efforts of Berbice based PSL rider, Romello Crawford who was forced to settle for second. 
The race saw the riders assembling at the Grove Public Road head of Tank Street for the first time and head to the Coca Cola Sign on the Linden/Soesdyke Highway and back.
Eastman said it was a challenging race with the weather on their side but despite the one accident, the race was enjoyable. He added that he wanted to extend thanks to the sponsors including U.S. based businesses for helping the country to have regular sporting events.
The ever consistent, Evolution's Paul DeNobrega was third while Alanzo Ambrose (Alanis) placed fourth while Stephano Husbands and Andrew Hicks rounded off the top six.
Meanwhile, Paul Cho-Wee-Nam, Junior Niles and Sybourne Fernandes finished in that order for the under-45 category while  Raymond Newton conquered the over-45 category. He was trailed by Andrew Spencer and Ian Jackson in a tussle to the line.
In the younger categories, Briton John continued his fine form while Ajay Gopilall was restricted to second over Ralph Sewnarine who finished in third.
The mountain bikers also turned out with Ozia McCully topping  the group ahead of Shaine Bourne.
Around the Web