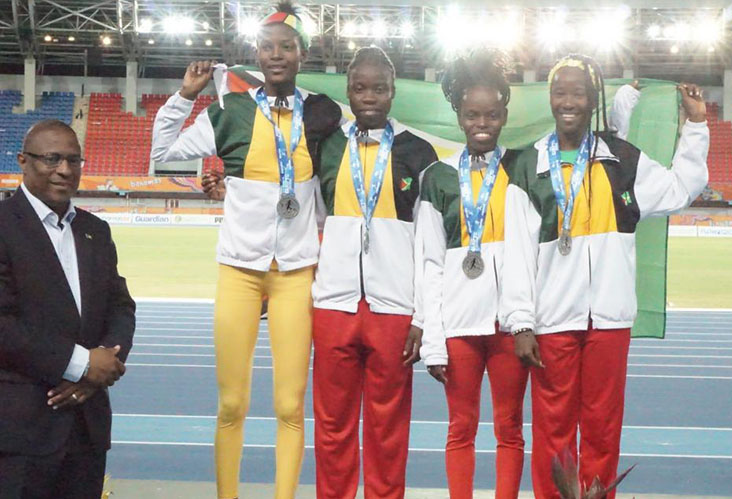 One day after the curtains came down on this year's CARIFTA Games which was staged in the Bahamas during the Easter Weekend, gold, silver and bronze medalist at the meet, Chantoba Bright wrote down the number 364.
The number for her was significant because it's roughly the number of days left for redemption.
Bright simply cannot wait to compete at next year's edition of the Games after falling short of her lofty goals of leaping to gold medals in both the long and triple jump events.
Bright won the gold in the long jump two days earlier but having to anchor the 4×100 Girls U-20 relay team while the triple jump final was in progress threw off her rhythm and focus and costed her the top spot on the podium.
Bright who turns 18 today, fell way short of her personal best of 12.52m.
After being forced to complete three consecutive jumps ahead of the relay event, the Region's best female long jumper could only muster 12.14m.
Ahead of her were a pair of Jamaicans, who jumped 12.24 and 12.23m.
Bright who was moved to tears, opined if she had enough time to concentrate, her execution would have been spot on and she would have won the triple jump event.
Nevertheless, her selfless heroics was done for her country and although she was disappointed initially, she vowed to be back again next year in the Cayman Islands for redemption.
The Track and Field standout also helped the Girls U-20 4×400 relay team to snare a silver.
As is customary, Jamaica finished with the most medals: 82 in total. The Jamaican athletes will take home 44 gold, 27 silver and 11 bronze .The Bahamas finished with 35 medals ,Trinidad and Tobago, 17 Barbados 13. Guyana was next in line with nine, one gold, one silver and seven bronze.
Guyana's 2018 medal was one better than last year's, however in 2017, Guyana bagged four gold medals, a silver and three bronze medals.
The 2019 Flow CARIFTA Games is scheduled to be held in the Cayman Islands. Guyana pitched their bid to host the Region's premier age group track and field event in 2020 at this year's CARIFTA Games Congress.
The local contingent is scheduled to return home today.
Around the Web