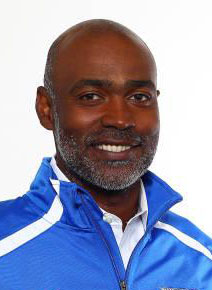 The Guyana Football Federation (GFF) has appointed Dr. Ivan Joseph to serve as head coach of the senior women's team for one year.
Dr. Joseph, who resides in Canada, is the Athletics Director at Ryerson University, Toronto. He possess a USSF A-License, a NSCAA Advanced National Diploma and a PhD in Sport Psychology.
According to the GFF, Dr. Joseph has over 20 years of experience in high performance coaching and athletics administration. He is due to arrive on local shores April 13th.
"I am honored to serve Guyana, the country of my birth, by supporting the Senior Women's National Team as they look to reemerge on the world stage. It is my hope to assist the Federation in building the grassroots level of football across the country that will help empower young girls to achieve success on and off the pitch," said Joseph.
"I see a lot of potential with the Lady Jaguars programme. My first goal is to assess our current talent and find out where our strengths are as a programme, then build a training programme that can serve our needs. We have many women, in and out of the country, who are capable of playing at a high level and have been waiting for the opportunity to compete at the world stage. My mandate is to build a team that can compete and put ourselves in a position to inspire a nation," he added.
According to the release, Joseph  is a six-time Coach of the Year, having led Graceland University (Lamoni, Iowa, USA) and Ryerson University Men's and Women's Teams to national rankings. He led his Graceland University team to a National Championship. He was also awarded National Coach of the Year and the African Canadian Award of Excellence in Sport for his achievements. Dr. Joseph's international experience includes serving as a high-performance consultant with Canada Basketball helping both their Senior Men's Team and U20 Team at World Qualifiers, as well as, Head Coach of Canada's Women's Soccer Team at Conseil International du Sport Militaire (CISM) – the world's largest military games outside of the Olympics", the release added.
Around the Web