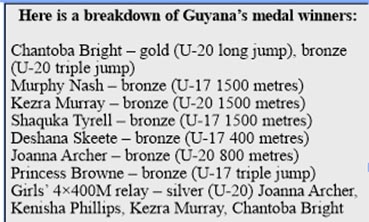 Chantoba Bright achieved the rare feat of winning a complete set of medals – gold, silver and bronze – at the 47th edition of the CARIFTA Games hosted by the Bahamas this past Easter weekend.
Team Guyana's 17-member contingent snared nine medals, the largest haul to date.  Chantoba Bright's gold medal in the Girls U-20 long jump, one silver by the Girls 4x400m relay squad, of which Bright was a member, and seven bronze medals made up Guyana's tally. The relay medal was the first in Guyana's history.
It was not all about winning medals however, as numerous personal milestones were established by our young ambassadors, many of whom were making their CARIFTA Games debuts.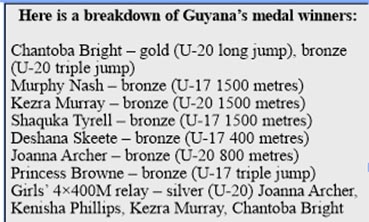 During the event which Bahamas were hosting for the eighth time, eight CARIFTA Games records were broken by the junior athletes.
Brianna Williams of Jamaica, winner of the coveted Austin Sealey Award for the most outstanding athlete, rewrote the record books on two occasions, in the U-17 100m (11.27s), and when she led the U-17 team to victory in the 4x100m event (44.95s).
The Florida based Williams, had the most gold medals for any athlete, three, after also winning the Girls 200m event, on the blue tartan track at the Thomas A Robinson National Stadium.
As customary, Jamaica finished with the most medals; 82 in total. The Jamaican athletes took home 44 gold, 27 silver and 11 bronze .The Bahamas finished in second place with 35 medals, followed by Trinidad and Tobago, 17, and  Barbados, 13. Guyana was next in line with nine.
The event which was graced with the presence of IAAF President and former Olympic gold medalist, Lord Sebastien Coe, saw about 500 athletes from 26 countries participating.
Guyana's manager of the contingent was Mayfield Taylor-Trim and the coaches were Moses Pantlitz and Niall Stanton.
The next edition of the Games is scheduled to be held in the Cayman Islands.
Note: Guyana's 2018 medal haul was one better than last year's, however in 2017, Guyana bagged four gold medals, one silver and three bronze medals.
Around the Web