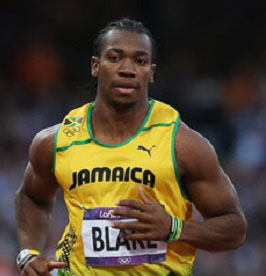 GOLD COAST, Australia, CMC – Four-time Olympic medallist, Yohan Blake, will chase his first Commonwealth Games gold after cruising into the final of today's marquee event.
The Jamaican clocked the fastest time of 10.06 seconds to win the first semi-final yesterday, and install himself as favourite to capture the final at Carrara Stadium.
He will have two other Caribbean runners for company after Jason Rogers of St Kitts and Nevis and Kemar Hyman of Cayman Islands both qualified.
While Hyman won the third semi-final in a season-best 10.10, Rogers qualified for the final by virtue of being one of the fastest qualifiers, after finishing third in semi-final one in 10.21.
Blake, a former World champion, will now take on the likes of South African speedster Akani Simbine who was second in semi-final three in 10.12, and Englishman Adam Gemili who was second in the opening semi in 10.11.
The 28-year-old, the second fastest man in history, said he planned to produce something special for the final.
"There's a lot more in the tank. I'll just be going and speaking to my coach, seeing what he says, then tomorrow I will come back and lay it down," he said.
Blake will have the backing of his friend and greatest sprinter of all time, Usain Bolt, who is expected here to witness the final.
Bolt has already thrown his support behind Blake, a former training partner and sprint relay teammate.
"He should be flying in on the eighth or the ninth, one of them. I'm looking forward to it," Blake said. "This morning he messaged me on Instagram and said 'I believe in you.'" He added: "[I] just come here and get the job done. Usain told me 'Yohan, you've got to win, you know what it means, you know you can't go back home.'"
There was disappointment, however, for several Caribbean sprinters. Barbadian Ramon Gittens (10.44) and Trinidadian Emmanuel Callender (10.54) were last home in semi-final one while Jamaican Oshane Bailey (10.32), Antiguan Cejhae Greene (10.39) and Guyana's Emmanuel Archibald (10.46) finished outside the top three in semi-final two.
In the last semi-final, Trinidadian Keston Bledman (10.30) finished fifth, Jamaican Nigel Ellis (10.38) was seventh while Bahamian Warren Fraser was last in 10.44.
Meanwhile in the women 100 metres, Jamaican Christania Williams led six Caribbean sprinters into today's final, as she won the third semi-final in time of 10.22 with Trinidadian Reyare Thomas clinching second in 11.36.
Trinidadian Michelle-Lee Ahye won semi-final two in 11.25, with Jamaican Gayon Evans following her home in 11.37.
However, Shenel Crooke (11.69) of St Kitts and Nevis and Bahamian V'Alonee Robinson (12.09) missed out.
In semi-final one, Jamaican Natasha Morrison qualified by finishing second in 11.27 while Trinidadian Khalifa St Fort finished third but squeezed through to the final by virtue of her 11.35 which left her as one of the next two fastest qualifiers.
Tahesia Harrigan-Scott finished seventh in 11.63.
Around the Web