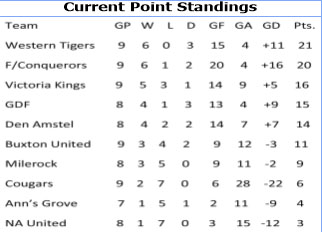 In a match that was halted in the dying moments for hostilities between players and hooliganism by spectators, league leaders Western Tigers and Den Amstel battled to a scoreless draw in the Guyana Football Federation (GFF) Elite League yesterday.
It was an embarrassing scene at the Den Amstel ground, as the fixture was stopped for several minutes following the invasion of the playing area by several armed spectators.
The incident that sparked the chaotic acts transpired after  Western Tigers center-half Rafael Edwards punched Den Amstel midfielder Dwayne St. Kitts in the mouth.
St. Kitts, who was involved in a tangle with another Western Tigers player moments earlier, was pushed away by Edwards in his attempt to be a peacemaker between the two individuals.
However, St. Kitts retaliated by slapping Edwards for the earlier push, resulting in Edwards shoving the Den Amstel player strongly. Both players were issued with red cards by the official as a skirmish between the teams ensued.
Immediately upon receiving his red card, Edwards dealt St. Kitts a punch. This resulted in several spectators racing out of the stands towards Edwards some armed with pieces of wood and bottles.
A bottle was thrown at the Western Tigers team and several spectators attempted to attack Edwards who was whisked away to a corner. No visible police officers were present at the venue when the incident occurred and the referees desperately tried to pacify the situation.
The match eventually resumed and remained scoreless. A police patrol was finally summoned by the GFF officials to escort the visitors out of the venue since they had remained on the ground following the conclusion of the fixture.
It is expected that both players will be sanctioned for their conduct.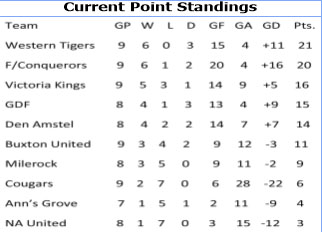 Meanwhile, in another fixture, Fruta Conquerors and Buxton United battled to a 1-1 draw.  Nixon Robinson opened the scoring for the Buxtonians in the 68th minute while Gregory Richardson equalised for the Tucville unit one minute later.
Around the Web