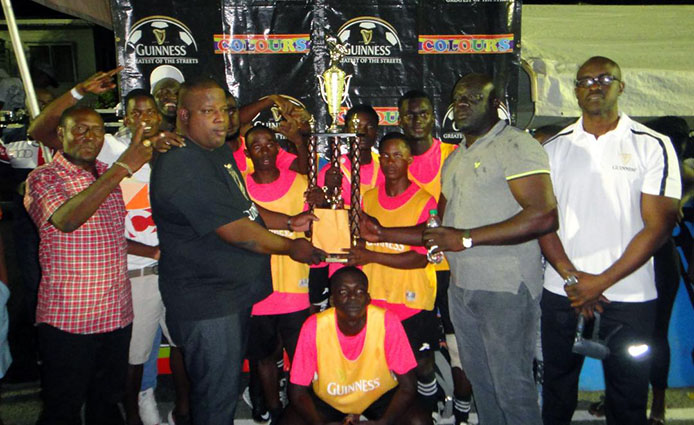 Uprising rose to the occasion to clinch the Guinness 'Greatest of the Streets' East Coast Demerara competition after defeating Paradise-A 3-0 Saturday at the Haslington Tarmac.
It was a historic night for the Golden Grove-based Uprising outfit in front of the largest crowd to ever descend on the venue. The youthful side became the first team in the history of the tournament to win the championships as a qualifier.
They also hold the distinction of being the first team to claim the title from east of the venue, following victories by Plaisance-A [2013], Melanie-A [2014], Beterverwagting (BV)-A [2015], BV-B [2016] and Melanie-B [2017].  
Playing effectively as the home team, Uprising displayed a fearless approach against the experienced Paradise-A side.
Building on their elimination of defending champions Melanie-B in the semi-finals, Uprising deservedly took the lead in the sixth minute when Quincy Semple slotted home from the right side, following a two-on-one situation.
The noise from the celebration was deafening as the venue erupted in conjunction with several firecrackers launched into the clear night sky.
Paradise-A, who secured their inaugural final's appearance at the expense of Buxton Diamond, had their moments to level proceedings, only to be thwarted by a combination of dogged defending and poor finishing.
Adams crafted the best opportunity in the 13th minute, uncorking a left foot dagger that crashed into the woodwork, drawing a collective sigh that could be heard from the Uprising bench and fans.
However, Uprising and the Golden Grove community would not be denied as Les Charles Critchlow delivered the final nail in the coffin.
The versatile Critchlow recorded a Guinness Goal (GG) [a goal scored in the final three minutes count as two] in the 18th minute with a right foot strike, sending the already ecstatic crowd into a frenzy.
For their brilliant showing, Uprising walked away with $400,000 and the championship trophy. They also secured automatic qualification to the Guinness National Championship.
Paradise-A received $150,000 and a trophy.
In the third place playoff, Melanie-B squeaked past Buxton Diamond 1-0. Odell Gulliver found the back of the net in the seventh minute.
Due to the result, Melanie-B pocketed $100,000 and a trophy, while the loser received $75,000 and the corresponding accolade.
In the semi-finals, Uprising dethroned champion Melanie-B 1-0 with Phillip Williams netting in the 16th minute while Paradise-A needled Buxton Diamond 1-0 through a Quincy Adams 15th minute goal.
Meanwhile, Belfield Warriors secured the Guinness Plate Championship, crushing Mahaica 3-0. Akeem Holder recorded a (GG) in the 20th minute while Keyron Johnson netted in the fifth minute.
Belfield won $50,000 and a trophy.
In the semi-finals of the section, Belfield Warriors gained a walkover from BV-A while Mahaica edged Victoria Church Yard 1-0.
Complete Results
(GG)-Guinness Goal-2 goals
Championship Final
Uprising-3 vs Paradise-A-0
Les Charles Critchlow-(GG)-18th
Quincy Semple-6th
Championship 3rd Place Off
Melanie-B-1 vs Buxton Diamond-0
Odell Gulliver-7th
Plate Final
Belfield Warriors-3 vs Mahaica-0
Akeem Holder-(GG)-20th
Keyron Johnson-5th
Championship Semi-finals
Game-1
Buxton Diamond-0 vs Paradise-A-1
Quincy Adams-15th
Game-2
Uprising-1 vs Melanie-B-0
Phillip Williams-16th
Plate Semi-finals
Game-1
Belfield Warriors vs BV-A
Belfield won by walkover
Game-2
Victoria Church Yard-0 vs Mahaica-1
Samuel Van Dyke-7th
Around the Web