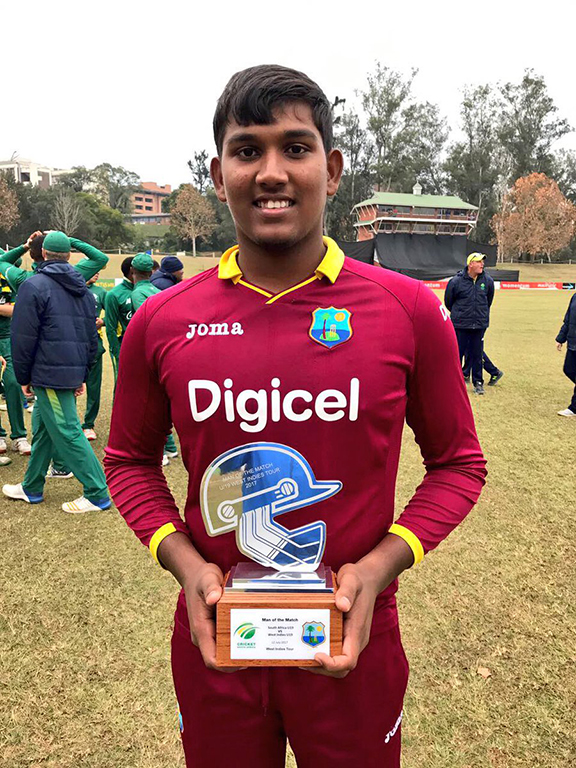 Expectations are high as the third Guyana Cricket Board (GCB)/ Hand-In-Hand Mutual Fire and Life insurance (HIH) three-day U19 Inter-County tournament bowls off today with two matches.
Defending champions, Demerara, comes up against the Select U-17s at the Everest Cricket Club.
The strong Demerara team includes the likes of Sagar Hatirimani who has had success with both bat and ball in the recent Georgetown Cricket Association/New York Tri-State U-19 50 overs tournament while Nkosi Beaton, fresh off his maiden century and players such as Qumar Torrington, Stephon Wilson, West Indies youth cricketers, Bhaskar Yadram, Ashmead Nedd and Joshua Persaud will make Demerara a formidable unit.
However, the select U17s will be coming strong with the all-round abilities of West Indies youth captain Sachin Singh as well as Andrew Samaroo, Niron Bissu, Sylvian Williams, Lance Roberts and Andre Seepersaud.
The team will use this competition as preparation for the Cricket West Indies Regional U-17 tournament.
Meanwhile runners up, Berbice will begin their title hunt against Essequibo at Lusignan Community Centre. The Berbice side is a confident unit with most of their players striking form in competitions across the Ancient County.
Leon Swamy has been the talk of the town after a blistering unbeaten 215 while five national U19 players in Alex Algoo, Kevin Sinclair, Kevlon Anderson, Karran Arjpaul and Javed Karrim will added depth to the squad.
The competition begins at 10:00h each day.
Squads: 
Demerara: Bhaskar Yadram-Captain, Sagar Hatirimani – Vice-Captain, Joshua Persaud, Ashmead Nedd, Stephen Wilson, Adrian Hinds, Rajendra Singh, Robin Williams, Dwain Dick, Dambuka Nqyando, Nksoi Beaton, Joshua Reddy, Mark Baptize, Qumar Torrington,  Manager: Jitlal Jowharilall, Coach:  Rohan Sarjoo.
Berbice: Kevin Sinclair- Captain,  Kevlon Anderson – Vice- Captain, Alex Algoo, Junior Sinclair, Javed Karim, Steve Deonarine, Garfield Benjamin,  Malcom Mickle, Leon Swamy, Trevon Stanislaus, Kevin Umrao, Keith Simpson, Karran Arjpaul, Christopher Harry, Manager: Neil Rudder and Coach: Andre Percival.
Essequibo: Kevin Christian -Captain, Kurt Lovell- Vice-Captain, Orlando Jailall, Joshua Jones, Reyaz Khan, Elian Whyte, Mark Ramsammy, Shane Wong, Rayon Venture, Matthew Chung, Beesham Moses, Sherlon Anthony, Quintin Sampson, Joel Fortune,  Manager: Andy Ramnarine, and Coach: Ryan Hercules Select Under-17: Sachin Singh- Captain, Seon Glasgow, Fawaz Gafoor, Ameer Singh, Saeed Hakh, Navendra Persaud, Yeudistir Persaud, Andre Seepersaud, Hrithik Singh, Niron Bissu, Nigel Deodat, Marvin Prashad, Gevon Shultz, Saif Amoi, Trevon Charles, Badesh Parsotam, Sheldon Charles, Sylvian Williams, Lance Roberts, Andrew Samaroo,  Manager: Nazeer Mohamed and Coach: Orin Bailey.
Around the Web