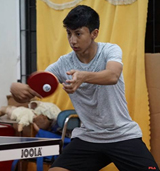 National junior player Miguel  Wong is heading to the Youth Olympic Games (YOG) qualifiers, to be held April 14-15, in Paraguay, free of any pressure to perform.
The 17-year-old, in an exclusive with Stabroek Sport, indicated that he is quite relaxed and eagerly awaits the challenges ahead.
Wong is in his final year at the junior level.
Like every other player, he is keen to end his junior career on a high, and is aiming to qualify for the Junior Olympics.
He was unable to play in the Junior Caribbean TT championships which ended recently in Cuba since, according to him, the Guyana Table Tennis Association was unable to fund a team to participate in the tournament.
"[There] is no pressure," Wong pointed out as he prepares for his toughest assignment of his career.
"But it is very unfortunate that I've been denied the opportunity to participate and possibly medal in my final year as a junior at the Junior Caribbean Champion-ships, recently held in Cuba," the Titans Table Tennis player noted.
He added: "Nevertheless, I now turn my full attention at the YOG qualifiers which will be held in Paraguay this coming weekend."
His personal aspirations, for this calendar year was ideally mapped out and he has been putting in the extra hours to achieve his much desired aspirations of playing in the Youth Olympics.
"My first goal for the year was to medal or even possibly win the U18 title at the Caribbean championships in Cuba; but my major goal is to qualify and even attend the Youth Olympic Games (YOG) in Argentina, later in the year."
While he floats high aspirations, there is need to address his dodgy form of late, which saw him being defeated by 14 – year-old Niron Bissu in the Scotiabank boys U18 final after winning the Mashramani/ Guyana Table Tennis Association U18 title the weekend prior.
He also failed to reach the finals of the boys U21 and `B' Class events of the Forbes Burnham Memorial Table Tennis tournament, which was dominated by his junior counterparts.
"I've been working on my spin and footwork for all-around table dominance," Wong said as a means of remedying his recent blips.
He contended that the current work on his 'hand speed' will give him an edge over his opponents during fastball exchanges as he works overtime to remain in shape and to be at the peak of his game.
His junior Caribbean career has so far yielded one medal – a bronze in the under -13 age group category in 2012.
He has been more decorated in the doubles and mixed doubles category, winning two silver and two bronze medals in the years gone by.
On his wall of medals also hangs the team's gold medal in the U13 category and a silver and bronze in the U18 teams.
The Future
Wong, who started playing the sport at age 11, recalls many fond moments at the junior level and hopes to enjoy similar success as he steps out of the little leagues.
"Moving forward, I am looking to be training and playing more tournaments abroad than on home soil," he says.
For most young players, there is that one player who is idealized for inspiration as they attempt to shuttle higher but in Wong's case, this is not so. He looks to himself.
"I'm a self-motivated individual. There is no one who can inspire and know more about you that the person facing you in the mirror."
Around the Web