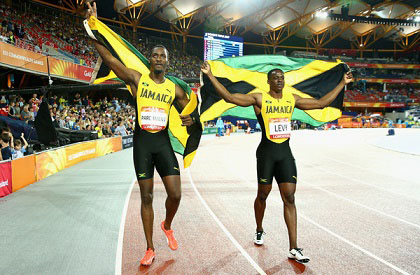 GOLD COAST, Australia, CMC – Jamaican Kimberley Williams produced a superb final leap to snatch gold in the women's triple jump, headlining a trio of Caribbean winners as fellow countryman Ronald Levy captured the men's sprint hurdles and Grenadian Lindon Victor claimed the men's decathlon, on day six of the Commonwealth Games here yesterday.
The defending champion appeared headed for silver after teammate Shanieka Ricketts laid down the gauntlet with a season-best jump of 14.52 metres in the opening round, to lead throughout the competition.
However, Williams unfurled a personal best 14.64m on her final attempt to overtake Ricketts, who was forced to settle for silver.
Dominican Thea LaFond grabbed bronze with 13.92m, to ensure a Caribbean clean sweep of the podium.
Up until the final round, Williams's best mark had been 14.37 in the fourth round but came up with her best following a foul jump on her fifth attempt.
The 29-year-old won gold in Glasgow four years ago with a measurement of 14.21 and only last month copped silver at the World Indoor Championship in Birmingham with a leap of 14.48.
Trinidadian Ayanna Alexander, who took bronze at the last Commonwealth Games, was well below her personal best with 13.47, which was only good enough for sixth place.
Teenaged Guyanese Natricia Hooper (8th) recorded a personal best 13.36 while older sister Natrena (11th) posted a season-best 12.62 but the performances left them down the field.
Levy, meanwhile, collected his first global title when she nipped teammate Hansle Parchment coming off the final hurdle to win the 110m event in a time of 13.19.
Parchment, who looked the winner at the half-way stage, posted 13.22 seconds for silver while Australian Nicholas Hough stopped the clock at a personal best 13.38 to claim bronze.
An Olympic bronze medallist in London and a silver medallist in Beijing World Championship three years ago, Parchment was challenged by England's Pozzi early on, with South African Antonio Alkana also in contention.
Levy, in lane seven, gradually gained on the leaders and was level with Parchment following the last set of hurdles before out-sprinting him to the finish.
Barbadian Shane Brathwaite was sixth in 13.53 while 18-year-old Jamaican De'Jour Russell was last in 13.92.
Victor, meanwhile, made the most of leader and defending champion Damian Warner's massive stumble, to take the the decathlon title by amassing 8303 points.
Canadian Warner, the Olympic bronze winner and a former world silver medalist, entered the second day of the event as the odds-on favourite to win but crashed out of the pole vault after missing three attempts at 4.50 metres.
He slumped from first to sixth and then failed to compete in either the javelin or the 1500 metres, leaving the door open for his rivals.
The 25-year-old Victor grabbed the opportunity. He cleared 4.60 to win the pole vault in a new personal best, unveiled an excellent throw of 71.10m on his final attempt to also win the javelin and trailed in seventh in the last event, the 1 500m, in five minutes, 04.75 seconds to formalise his title capture.
"It's not the way I wanted to win, with Damien having three fouls but I prayed for the gold medal. It's 10 events, not nine. It's the nature of the decathlon," said Victor, a two-time NCAA decathlon champion.
"I was a little below my personal record, but it's early in the season."
Canadian Pierce Lepage took silver with 8171 points while Cedric Dubler of Australia was third with 7983 points.
Victor's brother Kurt Felix, who claimed bronze in Glasgow, finished fourth in 7756.
Around the Web