GOLD COAST, Australia, CMC – Trinidad and Tobago claimed its first 200 metres Commonwealth Games medal in nearly half a century when Jereem Richards won gold, following the controversial disqualification of England's Zharnel Hughes here today.
In a fractious climax to day five of the athletics programme at the Carrara Stadium, Richards was upgraded to first place after Hughes was penalised for impeding the Trinidadian in tense finish.
Hughes, running out of lane five, led into the stretch but as he faded, Richards in lane four, produced a blistering late drive to draw level with 10 metres left.
With hands flailing wildly, there was contact across lanes just before both sprinters hit the line in the same time of 20.12 seconds, with Hughes out-leaning Richards to take victory.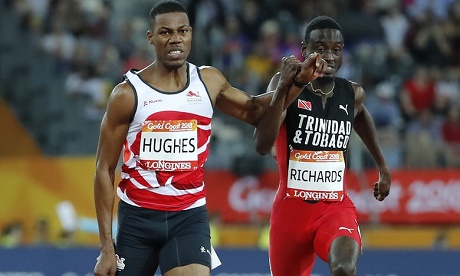 Trinidad and Tobago protested and Hughes was subsequently disqualified for obstruction, with officials deeming his arm had collided with Richards's because of his proximity to the edge of his lane. The contact caused Richards to stumble and lose momentum at that key stage.
Hughes was still on his lap of honour when the news of his disqualification broke and England understandably protested the decision, further plunging the race into chaos.
Richards was then forced to sweat for nearly two hours before judges upheld the disqualification, giving the 24-year-old his first individual global title.
"He was ahead and when I started to catch him he started to break down and I felt his hand come across and hit me", Richards confirmed afterwards.
"That's probably why they disqualified him. If he didn't hit me I would have gone past him. That hit threw me off my rhythm."
He added: "I think I was strong enough down the straight, I was closing on him really fast but when I got hit that knocked me back a bit."
T&T's last 200 metres medal at the Games was in 1970 when Edwin Roberts ran second behind now legendary Jamaican Don Quarrie in Edinburgh.
Thursday's result was a blow for Hughes, who switched allegiance from Anguilla three years ago, as he entered the final as one of the most impressive qualifiers.
He stormed through the curve to lead with Canada's Aaron Brown chasing, before Richards stormed from third to set off fireworks on the line.
Brown was upgraded to silver in 20.34 while Northern Ireland's Leon Reid nicked bronze in 20.55.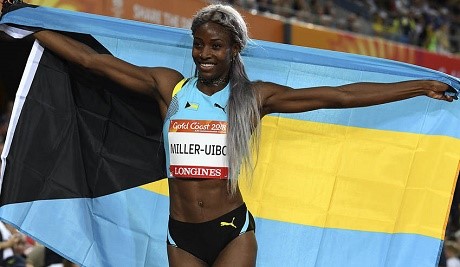 Trinidadian Kyle Greaux (20.63) was sixth while Jamaican Warren Weir (20.71) was a disappointing seventh.
Meanwhile, the irrepressible Bahamian Shaunae Miller-Uibo added another title to her growing collection when she won the women's 200 metres in record time.
The reigning Olympic 400m champion produced the smoothest of performances to dismiss her opposition and reach the finish in a new Games record of 22.09 – shattering countrywoman Debbie Ferguson's old record of 22.20 set at the Manchester games in 2002.
"The 200 isn't my key event, I'm doing this to get the speed work in and it shows I'm on track for the 400," Miller-Uibo said.
"The double is going to be a hard feat to accomplish, and I'm ready for it. I've been training for it."
Jamaican Shericka Jackson snatched silver in a personal best 22.18 while England's Dina Asher-Smith ended with bronze in 22.29.
There was disappointment for Olympic champion, Jamaican Elaine Thompson who could only muster a big enough effort to finish fourth.
She was unflustered, however.
"I'm feeling great. It's still early in the season," the double Olympic sprint champion said.
"[Shaunae's] getting better and better, she has the strength for the 400 and the speed for the 200."
Emotions soared in the men's 400 metres hurdles after Kyron McMaster brought home the British Virgin Islands' first major international medal when he won gold in a time of 48.25.
The 21-year-old lost his coach Xavier Daniels when the deadly category five Hurricane Irma slammed into the Caribbean country with devastating force last September.
McMaster said the medal would hold special significance for the BVI in light of the recent tragedy, and was also in memory of Samuels, who he remembers daily through a tattoo he had inscribed on his arm following his mentor's death.
"Tonight the gold meant a lot to the country, but I did what my coach would have wanted me to – go out there and run my race. He's with me everywhere I go with the band and the tattoo on my arm," said McMaster, the only runner to dip below 48 seconds in the event last year.
"So today I came out here and had fun like he always would also tell me before my race – 'enjoy the moment, don't pressure yourself in the race.'"
He added: "It's the first medal for the British Virgin Islands at any games so I'm pretty happy for that."
McMaster spearheaded a Caribbean sweep of the podium, with Bahamian Jeffery Gibson clocking a season-best 49.10 for silver and Jamaican Jaheel Hyde, 49.16, for bronze.
In the corresponding women's final, Jamaican Janieve Russell dominated to win in a time of 54.33 seconds, with England's Eilidh Doyle taking silver in 54.80 and South Africa's Wenda Nel, bronze in 54.96.
In the women's sprint hurdles heats, the Jamaican trio of Danielle Williams (12.69), Yanique Thompson (12.95) and Megan Simmonds (13.17) all qualified for Friday's final.
Around the Web