Two-time defending champion Colts, Pacesetters and Kobras claimed contrasting wins, when the Fifth edition of the Guyana Amateur Basketball Federation (GABF) 'Road to Mecca' Club Championship, continued on Wednesday.
Hosted at the Cliff Anderson Sports Hall, Homestretch Avenue, Colts defeated Guardians 75-58. Shane Webster and Timothy Thompson scored 16 points each, while Stanton Rose added 14 points.
For the loser, Nikkoloi Smith scored 15 points, while Malcolm Powdar and Marlon Chesney supported with eight and seven points, respectively.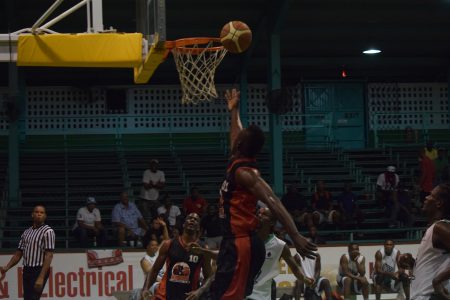 On the other hand, Pacesetters grounded Eagles 79-69. Jaleel Duke led the victors with 17 points, while Tyriq Cave and Randy Richards added 12 points apiece.
Michael Richards top scored in the loss with 23 points, while Travis Belgrave, Niko Fraser and Ryan Gullen added 14, 11 and nine points, respectively.
Meanwhile, Kobras bit Nets 65-56. Travis Burnette netted 18 points, while Carlos Edwards, Mark Richards and Trevor Smith added 10, eight and seven points each.
Mortimer Williams led the loser with 15 points, while Pelham Doris, Antwoine Austin and Drunson McAulay scored in the 10, eight and seven points, respectively.
The tournament continues today at the same venue with another three matches.
At 18:00hrs, Eagles oppose Amelia's Ward Jets, while Canje Knights faceoff with Retrieve Raiders at 20:00hrs. In the final fixture, Victory Valley Royals take aim at Pacesetters from 22:00hrs.
The competing teams are divided into two groups of six, with the resulting group winners and runners-up advancing to the semi-final round.
Group-1 features Colts, Half Mile Bulls [Linden], Plaisance Guardians, Retrieve Raiders [Linden], Ravens and the lone Berbice team Canje Knights.
Group-2 consists of Victory Valley Royals [Linden], Nets, Pacesetters, Amelia's Ward Jets [Linden], Eagles and Kobras.
The other playing dates are the 14th, 15th, 20th, 21st, with the semi-finals slated for the 22nd and the grand finale pencilled for the 28th.
Around the Web