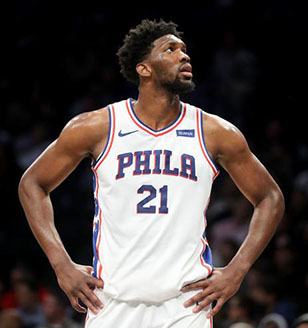 (Reuters) A day before his team plays its first playoff game in six years, Philadelphia 76ers head coach Brett Brown said star big man Joel Embiid won't be on the court for Game 1.
Speaking on "The Dan Patrick Show" on Friday, Brown said of Embiid, "He will not play in Game 1." Brown did, however, then leave himself some wiggle room:
"From that point going forward, we'll figure some stuff out. But unless something remarkable happens … I don't plan on him playing in Game 1."
The third-seeded 76ers open their best-of-seven series against the Miami Heat at 8 p.m. ET tonight in Philadelphia.
Embiid is recovering from a fractured orbital bone in his left eye and has practiced on a limited basis with a dark protective mask, dubbing himself "The Phantom of the Process."
Embiid was injured March 28 in a collision with teammate Markelle Fultz. One concern at the time of the injury was Embiid's vision. While he is in the concussion protocol, Embiid has said there have been no complications with his vision or recovery.
"I think everybody knows me, and everybody knows that I love playing," he said recently. "If it was my decision, I would probably play. Actually, I wouldn't say that because I don't think I'm ready to play, because it still doesn't feel all the way right.
"Like I said, it's unlikely, but you never know what can happen, maybe one of these days I'm going to wake up and it's all going to be gone. But we just got to see how it feels day-by-day."
The All-Star averaged 22.9 points and 11.0 rebounds in the regular season.
Around the Web