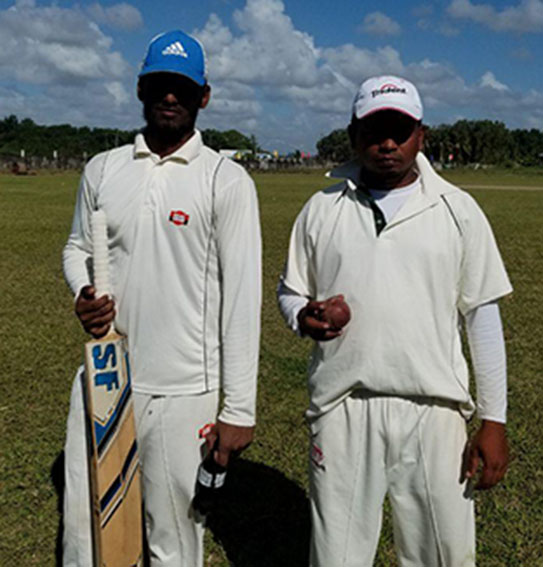 Safraz Esau scored an unbeaten century to help Independence `A' escape with a two-wicket win over McGill Sports club in the latest match of the West Demerara Cricket Association limited overs competition at Joe Vieira Park.
McGill batting first, were dismissed for 148 in 37.3 overs.
Independence `A' in reply, reached 149-8 in just 25.2 overs.
McGill was rescued after an early collapse by former national youth captain, Travis Persaud who added 40 while Daniel Basdeo batted sensibly for his 20.
Jagnarine Etwaroo picked up his second five-wicket haul for 21 runs while Jason Hector picked up 2-0 from one over.
In reply, Esau's century came at a strike rate of 130 with six sixes and eight fours.
His, was the only contribution in double figures as Shafiek Dean picked up 3-44 and Abdool Razak took two wickets to rip through the top order of Independence `A'.
Meanwhile, Sachin Singh smacked a fine half century that led Rising Stars to a five-wicket win over All Youths B at La Grange. Batting first, All Youths B posted 152 from 29 overs with Deoram Persaud top scoring with 45.
Navendra Persaud picked up 4-7.
Singh's 51 and Keon Robert's 28, saw Rising Stars reach 153-5 in 15.3 overs. Sewchan Narine bagged 4-23.
Over at the Canal Community Centre Ground, Canal Ambassadors recorded a six wicket victory over Wales. Wales posted 153 all out in 20.2 overs with Yogendra Singh scoring an even 50.
Paul Ashby picked up 3-40. In reply, Leon Andrew (52) and Damion Ross (46) led the Ambassadors to 154-4 in 18.2 overs.
Ryan Shun picked up 2-33.
In the final match of the day at Meten-Meer-Zorg (MMZ), MMZ-B defeated MMZ-A by 20 runs.
Deryck Foo blasted 55 as MMZ-B reached 176 all out in 27.1 overs with Reyaz Khan adding 36. Ashim Basir picked up 4-62 while Mahendra Dasrat returned 3-16.
In reply, Foo bagged 2-27 and Jermaine Maxwell 3-36 to dismiss MMZ-A for 156 in 38.1 overs despite Ravindra Dasrat's 55.
Around the Web