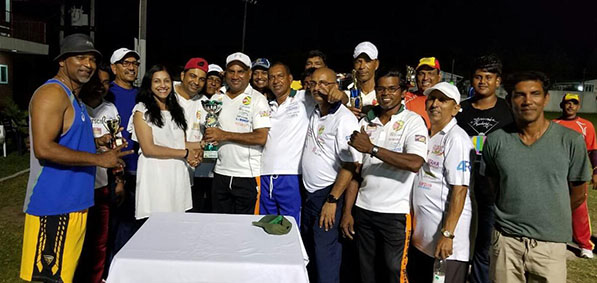 Last Friday night Floodlights defeated Savage Masters in a friendly T20 softball game in honor of the 64th birth anniversary of popular businessman Ramesh Sunich of Trophy Stall, Bourda Market.
Savage Masters won the toss, batted and scored 176 for 6 off their allotted overs. They lost Patrick Khan bowled by Reyaz Hussain for 13 and Troy Ramsaywack run out for nine.
N. Baksh followed shortly for one leaving Savage Masters in some trouble at 47 for 3. R. Perreira joined opener Seeraj Bheemsain and they added 77 runs for the fourth wicket before Perreira was run out for 27. Bheemsain ended not out on 94 as Hussain, Rakesh Arjune and Petamber Maharaj took one wicket each.
In reply, Floodlights lost the prolific Uniss Yusuf early via the run out route for two.
Ramo Malone and Anil Beharry then came together and put Floodlights in the driver's seat.
Beharry started with a flurry of boundaries but struggled in the latter part of his innings.
Malone, though, took over making a robust 66 with three sixes and seven fours.
After losing Malone and Beharry in quick succession, Ramesh Narine, teamed up with Imtiaz Mohamed and took their team to victory with one ball to spare.
Narine clobbered four sixes and two fours in a rapid unbeaten 44 while Mohamed was not out on 15, the two featuring an in unbroken 60-run partnership.   At the presentation ceremony, Steve Narine was voted best bowler and Malone best batsman for Floodlights. Bheemsain was the best batsman and Perreira best bowler for Savage Masters. There were also trophies for best fielder and best catch on both teams. Malone was adjudged Man-of-the-Match.
Around the Web