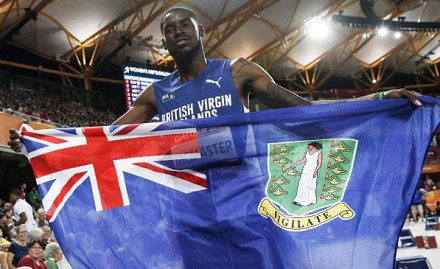 GOLD COAST, Australia, CMC – Newly-crowned Commonwealth 400 metres hurdles men's champion, Kyron McMaster, says the tragic experience of British Virgin Islands' devastation by Hurricane Irma, had served as a huge motivation to succeed.
The 21-year-old survived the dangerous category five tropical system which barreled through the northern Caribbean last September, leaving a deadly trail of destruction.
McMaster's coach and mentor Xavier Samuels died in the hurricane which also left thousands homeless. It was event which nearly led him to quit the sport.
"It was the day after the hurricane. My coach's sister lived right down the hill from us," McMaster was quoted as saying.
"She told my father and my father told me [of the death of Samuels]. I said every day immediately after that: 'I don't want to continue track because I really have very little motivation left because I lost someone very close to me.'"
He added: "For me it was coming to an experience and actually knowing not to take life for granted because at any moment stuff could happen.
"For me to be in stuff like that, and then my coach, for me to come out here and do this today it shows a lot. Every opportunity go out there like it's your last."
McMaster now trains at Clemson University in South Carolina under coach Lennox Graham, after being forced to relocate to the United States following the hurricane.
But even though being away from his beloved country, McMaster said BVI remained in his heart and was his single most important motivation.
"With the hurricane, the loss of my coach, moving to a new coach, changing to a new programme, adapting to a new life it's been a hard six months on me," McMaster explained.  "My country is the motivation for me right now. I'm just searching for ways to help everyone get through this with me. I know they're back home celebrating."
He added: "The BVI is a small place. Of course, from the day after the hurricane everyone was out there moving branches, rocks. We aren't totally wiped as everyone thinks. We're in the process of building back. It's still a great country."
On Thursday, McMaster clocked 48.25 seconds to win gold, the BVI's first at a global meet.
Around the Web