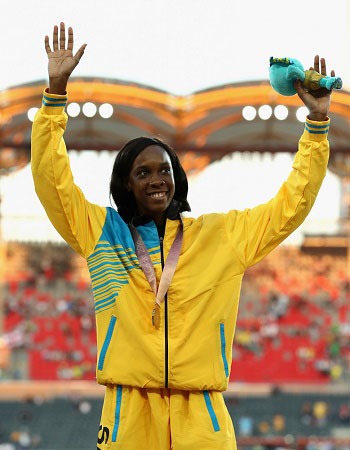 GOLD COAST, Australia,  CMC – Veteran St Lucian jumper Levern Spencer ended her nation's frustrating 56-year wait for a Commonwealth Games gold medal when she produced a season-best performance to win the women's high jump here yesterday.
Spencer, who managed only bronze in the event at the last two Games in India and Glasgow, cleared 1.95 metres on her third-last effort, to also ensure St Lucia their first medal of the meet which wraps today.
Guyana also picked up their first medal through United States-based Troy Doris who captured the men's triple jump with a leap of 16.88m.
However, there was no anticipated gold for Jamaica in the sprint relays as the women's team ended with silver and the men's, bronze, as England swept the headline events on the final day of the track and field component at Carrara Stadium.
Spencer, the Pan American Games champion in Toronto three years ago, found early challenges from England's Morgan Lake (1.93) and Australian Nicola McDermott (1.91) who eventually finished in the runners-up spots on the podium.
All three jumpers easily cleared 1.91m but Spencer and Lake were left to battle it out after McDermott thrice failed at 1.93m.
They both needed a second jump to clear 1.93 but it was Spencer who distinguished herself once the bar was raised again, as Lake fell out of contention for gold.
"It's a really good feeling and I am happy I'm the one making history for my country," said Spencer.
"In the last two editions of the Commonwealth Games I got bronze so I was determined to work hard this time to win gold and my results today were good enough."
US-based Antiguan Priscilla Frederick, a Pan American Games silver medallist, finished fifth in a season-best 1.87 while Spencer's countrywoman Janelle Scheper was ninth in 1.80.
Doris, meanwhile, was forced to pull out all the stops especially after Cuba-born Dominican Yordanys Duranona Garcia laid down the gauntlet from early with a mark of 16.86 on his first jump.
Doris responded with the winning mark on his second leap, forcing Garcia to settle for silver, while Cameroon's Marcel Mayak II took bronze in a personal best 16.80.
The relays proved a disappointment for traditional powerhouses Jamaica. Four years ago in Glasgow, they swept three of the four including both sprints.
Yesterday, however, they managed to win just one of four but more significantly ensuring the much vaunted Caribbean nation left the Games without a gold in the individual or relay sprints.
Perhaps their biggest disappointment was in the men's sprint relay which featured two-time Olympic sprint silver medallist, Yohan Blake. The Jamaicans could only muster bronze as England won in 38.13 and South Africa claimed silver in a new national record 38.24.
"We're going through a transition period," Blake said of the post-Usain Bolt era.
"We were dominating world-wide and coach is working to get me back to that level so I can dominate again."
Olympic star Elaine Thompson nearly gave Jamaica gold in the women's sprint relay but she was forced to settle for silver in the end as Lorraine Ugen got to the line first in a national record 42.46.
The Jamaicans tasted gold, however, in the women's distance relay when the quartet of Christine Day, Anastasia Le-Roy, Janieve Russell and Stephenie McPherson brought the stick around in three minutes, 24 seconds to win handsomely.
There was no such for the luck for the men who finished with bronze as Botswana took gold and the Bahamas, silver.
Grenada captured their second medal when Anderson Peters finished third in the men's javelin with a throw of 82.20.
Around the Web