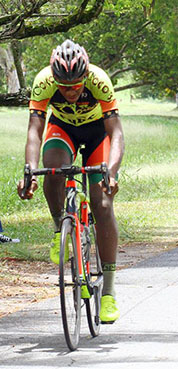 Team Coco's Jamal John out rode Deeraj Garbarran in a thrilling two-man sprint finish to cart off the spoils of the feature 35-lap event of the Universal Auto and General Supplies' criterium programme yesterday.
John, who recorded his first signature win of the season, stopped the clock in a brisk one hour, 15 minutes and 12 seconds in rainy conditions at the National Park.
His teammate, Hamzah Eastman out sprinted the remnants of the peloton to snag the final podium spot.
Alonzo Ambrose placed fourth, while Andrew Hicks (winner of three sprint prizes) and Raymond 'Steely' Newton completed the top six rewarding positions.
Other winners yesterday included: David Hicks (BMX Boys and Girls 12-14 years), Jaheim Henry (BMX 9-12 and 12-14) Gerard Barrington (BMX Boys 6-9 years), Ajay Gopilall (Juveniles), Leer Nunes (Veteran U-50 years) and Ian Jackson (Veteran O-50 years).
At the completion of the event, its organizer, Hassan Mohamed congratulated the cyclists for making the day a success and also thanked the sponsor Universal Auto and General Supplies for being onboard for the last 14 years.
The cycling season continues this morning with the PowerAde 40-mile road race at West Demerara. That event is scheduled for a 08:00hrs start from the Demerara Harbour Bridge.
Around the Web