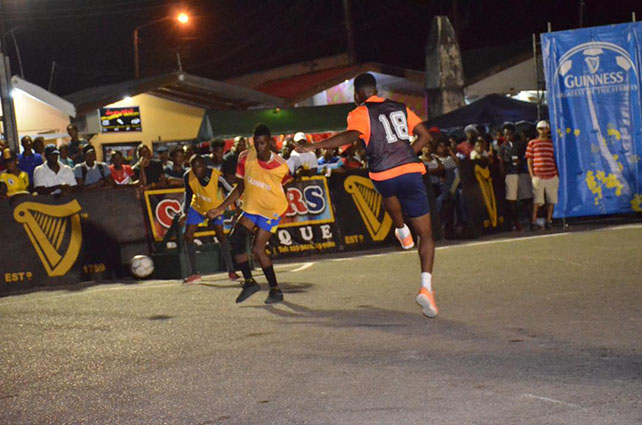 The Linden edition of the Guinness 'Greatest of the Streets' Championships kicks  off today at the Mackenzie Bus Park Tarmac.
In the opening match at 19:30hrs, Quiet Storm will lock horns with Big Guns, while Amazings will match skills with Hard-Knocks from 20:00hrs.
The third matchup at 20:30hrs will pit Assassa Ballers against NK Ballers while Team 25 will battle Young Kings from 21:00hrs.
In the final two matches, Swag Entertainment will faceoff against  Cherokee Park from 21:30hrs while Dave and Celina's All-Stars take aim at Amelia's Ward Russians in the feature clash at 22:00hrs.
The tournament, which concludes on March 5th, features 16 teams divided into four groups of four.
Group-A consists of NK Ballers, Assassa Ballers, Young Kings and Team 25, while group-B comprises Amelia's Ward Russians, Hard-Knocks, Amazings and defending champion Dave and Celina All-Stars.
Group-C features Swag Entertainment, Cherokee Park, Big Guns and Quiet Storm, while Group-D comprise of Silver Bullets, High Rollers, Next Level and Wisroc.
The other playing dates are April 20th, 22nd, 25th and  May1st. Winner of the competition will pocket $400,000 and the championship trophy. They will also earn an automatic berth to the National Championships.
The second, third and fourth place finishers will receive $150,000, $100,000 and $75,000 respectively and the corresponding accolade.
Fixtures
April 15th-Mackenzie Bus Park Tarmac
Quiet Storm vs Big Guns-19:30hrs
Amazings vs Hard-Knocks-20:00hrs
Assassa Ballers vs NK Ballers-20:30-hrs
Team 25 vs Young Kings-21:00hrs
Swag Entertainment vs Cherokee Park-21:30hrs
Dave and Celina vs Amelia's Ward Russians-22:00hrs
April 20th-Silvercity Hard-court
Young Kings vs Assassa Ballers-19:30hrs
Next Level vs Wisroc-20:00hrs
Cherokee Park vs Big Guns-20:30hrs
Team 25 vs NK Ballers-21:00hrs
Swag vs Quiet Storm-
Silver Bullets vs High Rollers
April 22nd-Mackenzie Bus Park Tarmac
Team 25 vs Assassa Ballers-19:30hrs
Silver Bullets vs Next Level-20:00hrs
Dave and Celina's vs Amazings-20:30hrs
Cherokee Park vs Quiet Storm-21:00hrs
High Rollers vs Wisroc-21:30hrs
Amelia's Ward Russians vs Hard-Knocks-22:00hrs.
Around the Web