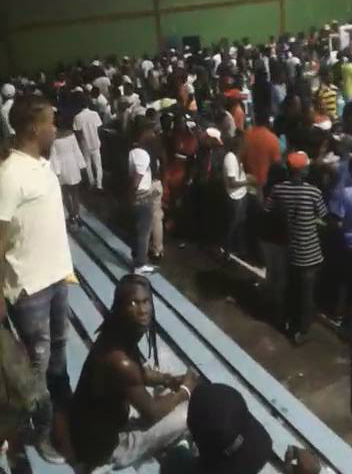 The Petra Organization/Corona Futsal Championship match between Sparta Boss and Bent Street was abandoned Saturday night owing to several gunshots being discharged inside the National Gymnasium, Mandela Avenue.
With the score locked 2-0 in favour of Sparta Boss at halftime following goals from Jermin Junior and Gregory Richardson in the fourth and sixth minute respectively, chaos erupted inside the arena which was crowded to capacity, triggering a stampede resulting in injuries to several patrons.
Up to press time no one was confirmed to have been shot and no arrests were made as well. According to a release from tournament coordinator Troy Mendonca of the Petra Organization, the matchup was forced to stop at halftime due to a disturbance between a "male and his female counterpart.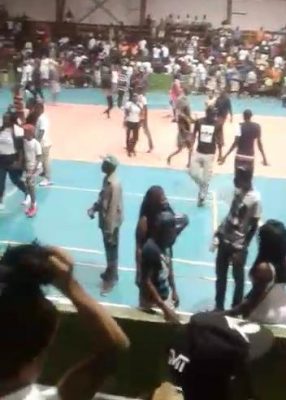 "The decision was taken to allow the Police to conduct their duties and in consideration of the safety for the fans and players. The Petra Organisation will be meeting the different stake holders in the coming days and will advise on the status of the game."
This version was corroborated by witnesses who spoke on condition of anonymity. However, several observers also alleged that the situation also escalated because of a sizable "bet" that went sour between several individuals aligned to the competing teams.
According to the eyewitnesses, "It was halftime and as the teams were changing benches, several gunshots erupted from the bathroom area. It sounded like five or six shots rang out and everything went crazy. It was miracle no one was seriously hurt.
"There was a lot of children and panic just set in as people scrambled to safety. People were climbing and running on each other to get outside, some people dived under the stands and on each other for cover, others raced across the field, it was sheer panic in the venue. Some persons got hurt because of the stampede and broken bottles that were on the ground because of the confusion."
"There was no visible security or police inside the venue, with most of the police sitting outside the arena in a truck. For such a big final, they should have had ample security, I just don't understand how anyone managed to enter with a gun. Several Police came with big guns after the incident happened," the witnesses added.
Meanwhile, Leopold Street gained a walkover from Alpha Warriors  in the third place playoff. According to a source, "Alpha Warriors felt they were unfairly treated by the referees and as such, refused to play the third place matchup."
Around the Web