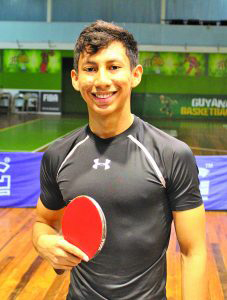 Guyana's Miguel Wong, for the second day running, failed to get past Jordanian Khaled Khader in the qualifiers of the Youth Olympics which was played in Paraguay over the weekend.
Wong, who was knocked out by Khader on day one, began the second day's competition with a win over Trehdel Lake of St Kitts and Nevis in commanding fashion.
Wong won in straight games 11-4, 11-5, 11-5, 11-2 to secure a place in the second round. 
The Guyanese however, still bearing battle scars from the previous day's defeat to Khader, lost to his nemesis in straight games 4-11, 5-11, 8-11 and 6-11 to end his chances of automatic qualification to the Youth Games set for October 6-18, 2018 in Buenos Aires, Argentina.
His participation in the Youth Olympic Games is now dependent on the consideration of the International Olympic Committee for him to participate in the games under the Universality allocated spots.
Around the Web