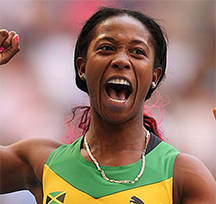 KINGSTON, Jamaica, CMC – Former World and Olympic champion Shelly-Ann Fraser-Pryce says becoming only the fourth woman to go below 10.70 seconds in the 100 metres, is one of the major driving forces behind her return to track and field.
The 31-year-old ran a personal best 10.70 six years ago and is now keen on joining the distinguished company of Americans Florence Griffith-Joyner (10.49) and fellow Americans Carmelita Jeter (10.64) and Marion Jones (10.65), as the fastest women in the sport.
"I haven't achieved everything. I just think, time-wise, I believe I can dip below the 10.70 barrier," Fraser-Pryce told the Gleaner newspaper here.
"I know I can do it. You just have to put your foot forward and commit yourself and just work hard towards it."
She added: "I have always said to myself that if they (Griffith-Joyner, Jeter and Jones) can do it, you can do it too."
The pint-sized Jamaican, affectionately dubbed the "Pocket Rocket", missed the 2017 season as she gave birth to her first child, leading to her absence from the World Championships in London last year.
However, her management announced this year she was already in training and was targeting a return by "early June."
Fraser-Pryce said while she was under no illusions about the size of the challenges involved, she was confident of overcoming them.
"A lot of persons may think that coming back from a baby is hard. Listen, every day is hard. Training itself is hard, so I am looking forward to the challenge," she explained.
"I always tell people that I was a full-time student when I first won at the Olympic Games and I had to stay up and study. So that gave me a lot of practice to be a mom and to continue to run."
Fraser-Pryce is one of the finest female athletes of all time. She won back-to-back Olympic 100m titles in Beijing and London and has also captured three World 100m crowns – including a sweep of the sprint titles in Moscow 2013 when she won the 200m.
But with the birth of her son Zyon behind her, Fraser-Pryce said she was already feeling the buzz of competition.
"Training is good. I had my son eight months ago, so I am back in the full swing of things," she said.
"I have had some hiccups but nonetheless, it is still wonderful. I am back to where I am supposed to be in terms of what my body is feeling. I am really excited about next year."
Around the Web