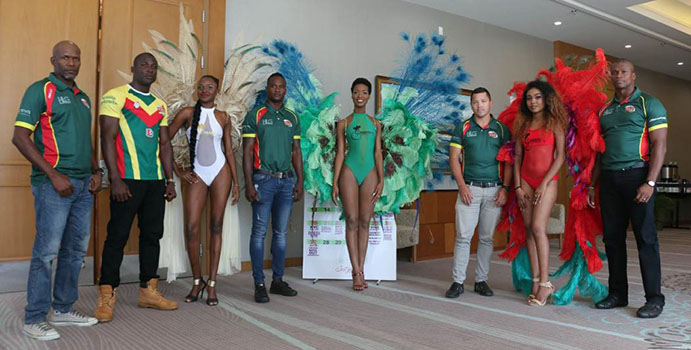 Some of the Caribbean's top rugby players will invade Guyana on May 20 as Hits and Jams Entertainment teams up with the Pepsi Hornets Rugby Club to host the inaugural 'Guyana Carnival 7's Rugby' at the National Park.
The one-day tournament was unveiled when the group held its Guyana Carnival corporate and media launch yesterday at the Guyana Marriott Hotel. The Guyana Carnival is set for May 18 – 27.
According to Rawle Toney, one of the organisers of the Carnival Rugby tournament, the teams and players from Jamaica, Trinidad and Tobago and other Caribbean countries are all eager to make the voyage to Guyana for the highly anticipated event.
He added that the tournament will also see players from the USA participating.
The tournament will carry a winner's purse of US$1,400, while the team finishing second will pocked US$700. There's also a US$100 prize for the Most Valuable Player (MVP) of the tournament.
"What I can say for certain is that Jamaica is very anxious to come to Guyana and the players here are also eagerly awaiting their arrival because of it was the Jamaicans who broke Guyana's heart and snatched their Caribbean title from them in Mexico," Toney said.
According to the organisers, other information in relation to the tournament will be disclosed shortly.
Around the Web