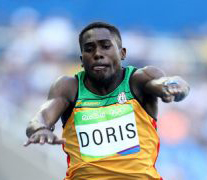 Newly minted Commonwealth Games triple jump gold medalist Troy Doris is hoping that his historic leap creates more opportunities for himself, Guyana and local sportsmen and women.
"Hopefully this opens some doors for myself and for Guyana, what doors I'm not sure but I just hope in general there are more opportunities for Guyana to have its name in more competitions and have our athletes recognized globally."
The USA-based Doris, who spoke via telephone to Stabroek Sport recently, also voiced his appreciation for the overwhelming support he has received from the public since winning Guyana's first global gold medal in the field event.
"I definitely want to thank the Guyanese public for the support I have been receiving on Facebook and Instagram, thanks to social media I have been able to interact with all these people and it has been positively overwhelming and I definitely appreciate all the responses that I have gotten and that's the support that motivates me to do better."
Last Saturday on the penultimate day of the 21st edition of the prestigious Games  held on the Gold Coast in Australia, Doris produced the most memorable jump of his career, a season-best 16.88m to catapult his name into the history books.
Almost a week has gone by but according to Doris, his achievement "hasn't sunk in yet."
"It's crazy, it hasn't sunk in yet that I won my first major global title. It's one thing to be on the podium and it's another thing to win a gold medal so to achieve both in one competition on such a stage, it's crazy. It's absolutely an unreal experience."
Doris, a finalist at the 2016 Olympic Games noted that his winning performance was a huge confidence booster and reminded him that he belongs on the international stage among the elite triple jumpers in the world.
"It means a lot, it lets me know that I am ready to compete on the global stage, it says I am very relevant and I am always ready to put Guyana on the podium, that's always my priority. It does let the world know that Guyana does have an athlete that has a gold medal potential and that fact needs to be taken seriously."
Meanwhile, on the subject that he could possibly compete in Guyana at the Aliann Pompey Invitational on June 30. Doris stopped short of giving a definite answer.
"I'm kind of in a down period where I'm just trying to figure out what direction things are going to be in so it's never counted out. It's just a matter of where the schedule is and the location. If I am in Europe it's definitely hard to travel to South America. So in short it's not out of the picture, but right now I can't give a definite yes or no."
What is certain, following his performance on Saturday, the national triple jump record holder (17.18m) joined Phil Edwards, Winfield Braithwaite and Aliann Pompey as the only gold medal performers for British Guiana/Guyana at the Games which was first held in 1930.
Edwards won the 880 yards event in London, England in 1934. Forty-four years later, Braithwaite boxed his way to a gold in the light welterweight class in Edmonton, Canada and Pompey won the 400m event in 2002 in Manchester, England.
In 2020, Doris will have another opportunity to win Guyana's first Olympic medal in the discipline of track and field. Asked about the historic prospect, Doris repeated "I am always ready to put Guyana on the podium, that's always my priority." (Emmerson Campbell)
Around the Web