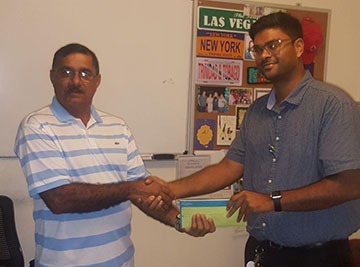 The Grand Coastal golf tournament will take place Saturday after the Grand Coastal International Hotel and Restaurant renewed its sponsorship of the tournament with the Lusignan Golf Club.
The collaboration of over 20 years was renewed at a simple handing over ceremony at the Hotel's Le Ressouvenir, East Coast Demerara location recently where deputy CEO of the hotel, Kevin Daby, pledged the hotel's support to golf.
Daby, who pointed out that there is always a good relationship between the club and the hotel, said that it was his father, an avid fan and competitor, who began the initiative and who asked him to continue the relationship, something the deputy CEO intends to continue in the future.
LGC Secretary, Rabindranath 'Pandit Ravi' Persaud, who received the sponsorship on behalf of the club, said he was grateful for the company's continued support and asked that the public come out and support the event.
He added that the club, in a partnership with the University of Guyana, is encouraging and teaching the public the basics of the sport.
He said interested persons can come and use the club's equipment to get a feel of the sport to see if they like it.
He said the club is grateful for all the positive responses the club has been getting from corporate Guyana and the public with an increased membership at the club.
The tournament will tee off at 10:00h with a number of favorites and stern competition taking to the course.
Around the Web