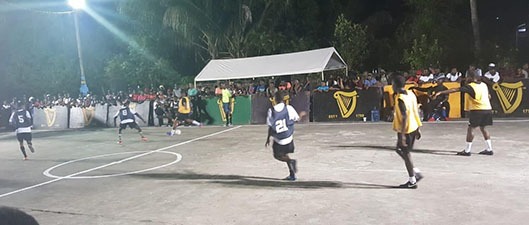 NK Ballers, Silver Bullets, Wisroc, Swag Entertainment, Assassa Ballers and Cherokee Park secured wins when the Guinness 'Greatest of the Streets' Linden Championship continued on Friday.
Hosted in front of a massive crowd at the Silvercity Hard-Court Tarmac, NK Ballers made light work of Team 25 winning 6-1.
Kenard Simon recorded a 'Guinness Goal (GG) (a goal scored in the final three minutes of a match counts as two) in the 18th minute.
He was aided by a Keon Sears (GG) in the 20th minute while Donovan Francis and Jermaine Grandison scored in the ninth and 12th minute respectively.
For Team 25, Teon Stewart scored in the third minute. Meanwhile, Silver Bullets overcame High Rollers 2-1.
Omar Williams crafted a (GG) in the 19th minute. For High Rollers, Jonah Simon scored in the fourth minute.
Wisroc needled Next Level 1-0 compliments of an Orande Wills effort in the sixth minute. Swag Entertainment edged Quiet Storm 1-0. Kevon Prince scored in the eighth minute.
Similarly, Cherokee Park disarmed Big Guns 2-1. Jesse Waldron and Ray Richards scored in the fourth and 15th minute respectively. For the loser, Carlos Blackman netted in the seventh minute.
Also, Assassa Ballers edged Young Kings 2-1. Colric Beckles tallied a double in the fifth and 14th minute. For the loser, Shaquille Fraser scored in the seventh minute.
The competition continues today at the same venue with another round of matches at the Mackenzie Bus Park Tarmac.
Today's fixtures -Mackenzie Bus Park Tarmac
Team 25 vs Assassa Ballers-19:30hrs
Silver Bullets vs Next Level-20:00hrs
Dave and Celina's vs Amazings-20:30hrs
Cherokee Park vs Quiet Storm-21:00hrs
High Rollers vs Wisroc-21:30hrs
Amelia's Ward Russians vs Hard-Knocks-22:00hrs
Around the Web