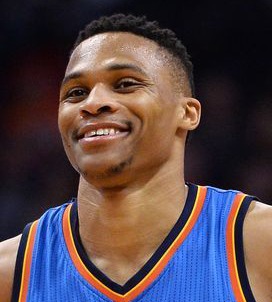 Ricky Rubio became the first Jazz player to record a playoff triple-double since John Stockton in 2001, but Oklahoma City Thunder star Russell Westbrook wasn't all that impressed.
In fact, Westbrook vowed to shut the Jazz point guard down in Game 4. The Jazz leads the series 2-1 after winning Game 3 115-102 on Saturday night.  "He made some shots. Too comfortable. But I'm gonna shut that (expletive) off next game though. Guarantee that," Westbrook said afterward.
Rubio finished with 26 points, 11 rebounds and 10 assists for his first career postseason triple-double and was humbled to be keeping company with Stockton afterward.
"Having my name next to (Stockton's) name is an honor," Rubio said. "I don't know what else to say. It's huge. Have huge respect for him, and playing here is great because I know how important a point guard he is for this franchise."
Westbrook, who has averaged a triple-double the past two seasons, will get his chance to get even in the series — and with Rubio tonight in Salt Lake City.
Around the Web