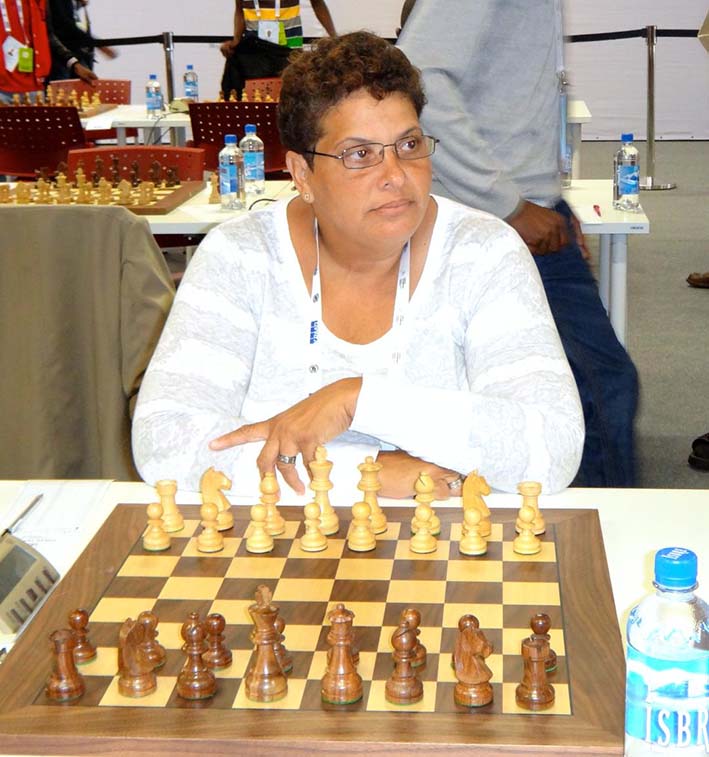 Sixteen-year-old Nellisha Johnson stunned Candidate Master (CM) Sheriffa Ali in the first round while Woman FIDE Master (WFM) Maria Varona-Thomas played undefeated to lift the title in the first ever Guyana Chess Federation (GCF) female national chess championships last weekend at the National Racquet Center, Woolford Avenue.
Varona-Thomas ended with 5.5 points with her only draw coming against Ali while Hinterland student, Johnson snapped up the second spot by virtue of winning against Ali.
The two finished on four points each.
Ali was third while Waveney Johnson was fourth, ending  on 3.5 points and handing her older sister, Nellisha a defeat in the second round by  forcing a mate in three that was overlooked by the 16-year-old Christ Church Secondary School student.
Attorney-at-law Yolander Persaud placed fifth with three points and Sasha Shariff rounded off the top six.
Executives of the GCF indicated that the tournament will be used to help select a five member team to take part in the World Chess Olympics scheduled to be held in Batumi, Georgia later this year.
Meanwhile, in the Georgetown version of the Chess Classics, Anthony Drayton earned himself maximum points from his six games and with one round to go, has already won the tournament after being 1.5 points ahead of his nearest rival, second placed former national junior champion, Saeed Ali.
Alli is locked on 4.5 points with Frankie Farley while 14-year-old Jaden Taylor is on four points along with Calvin Giddings and Glenford Corlette.
Newcomer, Pasqual Cornelius is on 3.5 points with juniors Akili Theophil, Tyrese Graham and Ethan Lee following closely on three points each. Keon Scott, Oluwadare Oyeyipo, Tyreese Kirt, Devon Chance, Savir Gookul and Jonathan Stephney are on two points each.
The last round will be played tomorrow at the National Racquet Center – Conference Room from 17:30h.
Around the Web