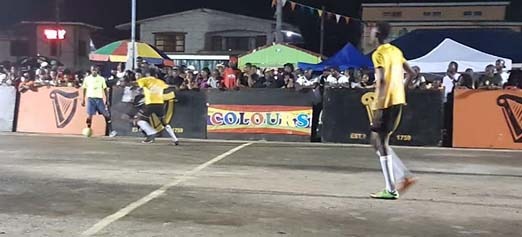 Quiet Storm, Amelia's Ward Russians and Assassa Ballers sealed their berth to the knockout round when the Guinness 'Greatest of the Streets' Linden Championship continued on Sunday.
Hosted in front of a large crowd at the Mackenzie Bus Park Tarmac, Quiet Storm defeated Cherokee Park 1-0 on penalty kicks after normal time ended scoreless while Amelia's Ward Russians squeaked past Hard-Knocks 2-1. Shawn Daniels and Terrence Aaron scored in the seventh and 15th minute respectively for Amelia's Ward Russians while Clive Nobrega netted in the fourth minute for Hard Knocks.
Led by a Guinness Goal from Kester Randolph, (a goal scored in the final three minutes of a match counts as two) Assassa Ballers crushed Team 25 4-1.  For Team 25, Ryan Noel scored in the 12th minute.
Meanwhile, defending champion Dave and Celina's All-Stars made light work of Amazings 5-0.
Mortimer Giddings and Tyriq McAllister registered tallied (GG) in the 18th and 20th minute apiece, while Stephon Tappin netted in the 12th minute.
Also, Silver Bullets riddled Next Level 2-0. Omar Williams bagged a double in the eighth and 14th minute.
High Rollers edged Wisroc 2-1. Quelley Andries bagged a double in the eighth and 10th minute. For the loser, Deshawn Young scored in the fifth minute.
The competition continues tomorrow at the same venue with another round of matches.
Around the Web