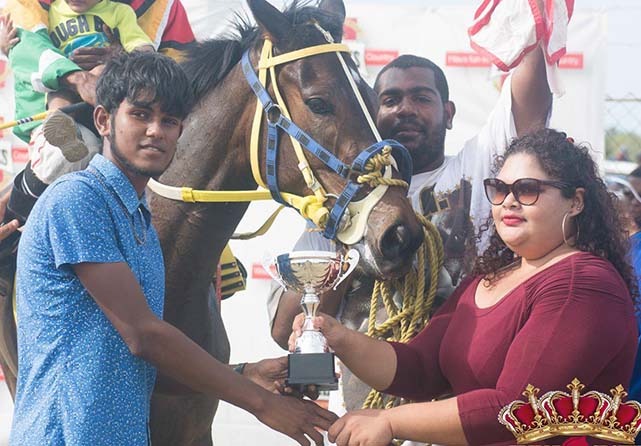 Following the first leg on April 1, the Jumbo Jet Thoroughbred Racing Committee (JJTRC) will run off the second leg of its inaugural Triple Crown Series this Sunday at the Rising Sun Turf Club.
According to head of the JJTRC, Nasrudeen Mohamed Jr. On the racing days, the C Class, 1200m event with a bounty of $1M will be the main attraction.
The seven-race card will also include events for trotters in the F Class and lower, Three-Year old Guyana Bred, H and Lower, J/K and lower, K Class non earners and L and lower.
Mohamed noted that horses will not be promoted nor demoted for any events in their classes until after the final fixture. "This is to give the horses a chance to win the bonus and to be crowned the Triple Crown champion in their respective classes."
As an added bonus, horses winning all three events will receive a bonus but a pre-entry fee of $5000 is a prerequisite to receive the extra incentive. Miss Olympic, an L class steed owned by the L. Singh Racing Stable won two races during the first leg and is on pace to repeat this Sunday. Its owner boasted that he wants to set a record by winning two races on each leg. Miss Olympic will be one to watch on Sunday.
The Triple Crown series originated in the UK in the 1850's. Countries like Japan, Hungary, Denmark, the USA, Australia, Canada, Germany, France, Belgium and even Jamaica have since subscribed to that format. The USA's Triple Crown which consists of the Kentucky Derby, The Preakness and the Belmont Stakes is widely viewed as the most popular.
Around the Web