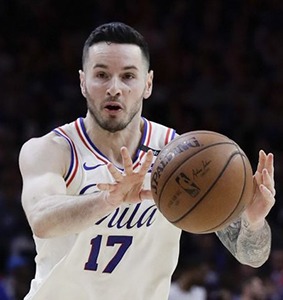 (Reuters) JJ Redick scored 27 points to lift the Philadelphia 76ers past the visiting Miami Heat 104-91 to clinch the teams' first-round playoff series in five games Tuesday night at the Wells Fargo Center.
Redick scored 20 or more points in consecutive playoff games for the first time in his career as the Sixers advanced to the Eastern Conference semifinals for the first time since 2012.
"If we can just buy time and hold on to winning, I like where we are going," Sixers coach Brett Brown told NBC Sports Philadelphia on the court postgame. "I like our direction."
Joel Embiid scored 19 points and grabbed 12 rebounds while Ben Simmons had 14 points, 10 rebounds and six assists. Marco Belinelli chipped in with 11 points and Robert Covington had 10.
Kelly Olynyk led the Heat with 18 points, Tyler Johnson added 16 and Goran Dragic had 15. Justise Winslow scored 12 points and Dwyane Wade had 11.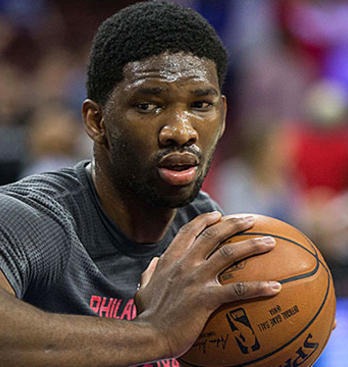 "I'd like to congratulate Philly, Brett Brown his staff and players, they played very good basketball and clearly deserved to move on," Heat coach Erik Spoelstra told reporters. "They did it the right way and have built very steadily, didn't skip any steps. You're seeing the results."
The 76ers were fired up by the courtside presence of Philadelphia-born rapper Meek Mill, who was released from prison earlier Tuesday while he appeals convictions on weapons and drug charges.
"We brought him in the locker room. It was like this mass happiness, hysteria," 76ers co-owner Michael Rubin said, according to ESPN.
Redick hit a long 3-pointer as the Sixers surged ahead 85-69 with 10:17 remaining. On Philadelphia's next possession, Embiid sank a jumper from the wing, and the lead was 87-69.
Despite playing with a sore thumb, Johnson gave the Heat a bit of a spark with a 3-pointer to close Miami within 87-72. Yet the Heat still trailed by 15 with 8:50 left.  Another trey by Johnson from the baseline cut the deficit to 87-75. A layup by Wade capped a 10-0 run and sliced the advantage to 87-79.
Johnson fouled out with 4:53 left when he hit Belinelli across the arm.
After the Sixers went up 11, Wayne Ellington hit a 3-pointer to get Miami back within 95-87. Redick's triple with 2:07 left secured the win as the Sixers pulled out to a 100-89 advantage.
The Sixers picked up the pace and outscored Miami 34-20 in the third quarter to take an 80-66 lead.
The Heat tied the game at 46 just before halftime when Dragic knocked down a 15-foot jumper. Dragic led Miami with 10 first-half points.
Embiid, who was making his home debut in the playoffs, paced the Sixers with 11 points and seven rebounds before halftime.
Dragic said of the 76ers, "If somebody underrates those guys, they are in trouble. We didn't underrate them. We thought that they were a great team. … They have a lot of weapons. Everybody can get hot and they play physical. They don't back off. They play together as a unit defensively and offensively. I think they are going to go far."
Redick said, "I think moving forward, the playoffs get more physical, more intense. Whomever our opponent is in the next round, whether it's Boston or Milwaukee, it'll be a lot more of the same.
"There's an adjustment in terms of execution, there's an adjustment in terms of moving the ball, at times we handle it well, but as (Brown) probably said to you guys, we still have a lot room for growth in those areas. If we do that, then we'll be in a good place and have a chance to win."
Around the Web