Defending champion Dave and Celina's All-Stars, High Rollers and Swag Entertainment secured their berths in the knockout round, when the Guinness 'Greatest of the Streets' Linden Championship continued on Wednesday.
Hosted in front of a large crowd at the Silvercity Hard-Court Tarmac, the titlist edged Hard-Knocks 1-0. Tyric McAllister scored in the seventh minute.
On the other hand, High Rollers crushed Next Level 4-1. Jonah Simon recorded a 'Guinness Goal' (GG) (a goal scored in the final three minutes of a match counts as two) in the 19th minute.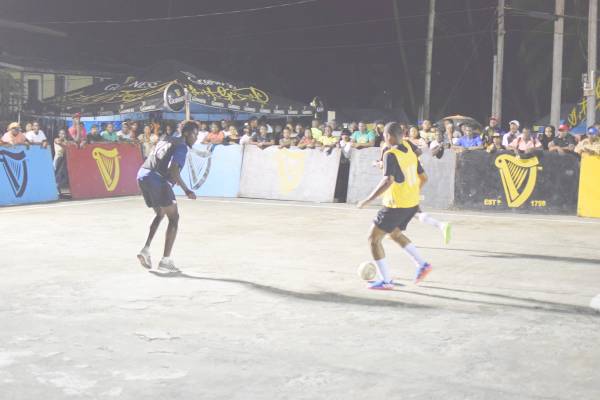 Assisting with goals in the fifth and 12th minute apiece were Qualon Andries and Kendolph Lewis. For the loser, Allan Reece scored in the ninth minute.
Similarly, Swag Entertainment dismantled Big Guns 6-0. Shane Luckie recorded a hat-trick in the second and a (GG) in the 19th minute.
Contributing goals in the fourth, seventh and ninth minute were Colwyn Drakes, Romel Matthews and Royston Fraser respectively.
In other results, Wisroc edged Silver Bullets 1-0. Clarence Huggins scored in the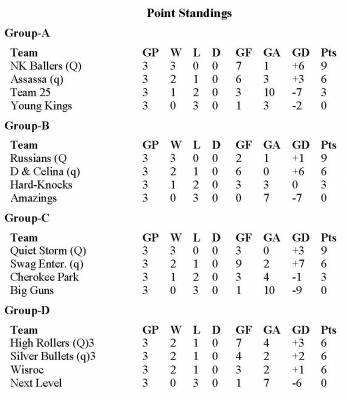 eighth minute. Meanwhile, NK Ballers and Amelia's Ward Russians defeated Young Kings and Amazings respectively via walkovers.
The competition continues on Tuesday at the Mackenzie Bus Park Tarmac with the quarterfinal round. Dave and Celina's battle Quiet Storm at 19:30hrs, while NK Ballers oppose Silver Bullets from 20:10hrs.
In the third match, Assassa Ballers tackle High Rollers from 20:50hrs, while Amelia's Ward Russians engage Swag Entertainment at 21:30hrs. The resulting winners will advance to the semi-final stage.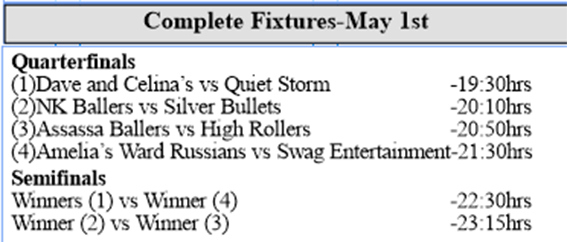 Winner of the first quarterfinal will match skills with the victor of game four from 22:30hrs, while the winner of fixture two will oppose the victor of match three at 23:15hrs.
The champion of the event


will pocket $400,000 and the championship trophy.  They will also earn an automatic berth to the National Championship.
On the other hand, the second, third and fourth place finishers will receive $150,000, $100,000 and $75,000 respectively and the corresponding accolade.
Around the Web