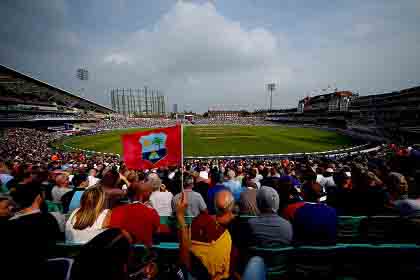 LONDON, CMC – Cricket World Cup managing director, Steve Elworthy, says every effort was made to ensure the 10 participating teams were guaranteed "home crowds", during next year's showpiece.
A day/night encounter between hosts England and South Africa at the Oval in London will raise the curtain on the 2019 World Cup, and will be the first of 45 preliminary round matches in the May 3o to July 14 tournament.
Two-time winners West Indies will not play a single match in London, however, especially at the Oval in the south which has been the traditonal base of the Caribbean support over the years.
"There are some fantastic head to head fixtures – England versus Australia at Lord's and India versus Pakistan at Old Trafford as well as England versus India at Edgbaston spring to mind," Elsworthy said.
"As organisers we can promise the teams and fans we will work hard to provide the perfect stage for this event.
"Because of the UK's diverse population, every competing team will also be guaranteed a 'home crowd' every time they play at some of the most iconic cricket grounds in the world."
The Windies, who will enter the tournament as rank underdogs, will play two matches in Nottingham, Southampton and Manchester, and a match each at Taunton, Chester-le-Street and Leeds.
The Oval, however, holds precious memories for West Indies, and was also the scene of their last one-day title success when they beat the hosts to win the 2004 Champions Trophy.
Significantly, the Windies have not played a Test at the venue in 14 years.
With the tournament resorting to the format of each team playing one another in the preliminaries and the top four progressing to the semi-finals, ICC chief executive David Richardson said high quality competition was anticipated.
"Next summer fans around the world will be treated to compelling and competitive cricket as the best teams in the world go head to head in this round robin format for the right to be crowned World champions," he said.
"This schedule also gives fans across England and Wales the opportunity to watch world class cricket on their doorstep with all teams moving around the country.
"We know from previous ICC events that every country will be proudly supported at each of the venues creating an exceptional atmosphere and a real celebration of the game."
Around the Web