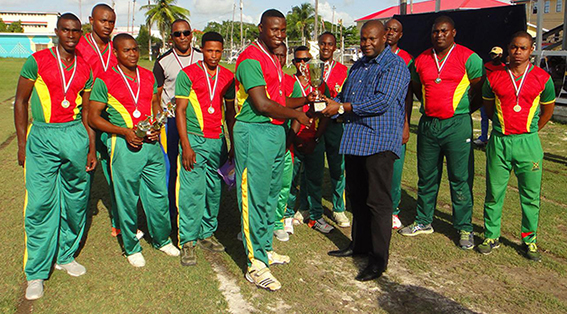 The Guyana Defence Force (GDF) yesterday scored a four-wicket win over the Guyana Fire Service (GFS) in the final of the Balram Raghubir Inter-Service T20 title at the Police Sports Club Ground, Eve Leary.
The bowlers had a marvelous day in the field with the weather offering much sunshine to end the tournament that was plagued with rain.
GDF won the toss and decided to bowl and duly bundled out the GFS for 46 in 14.2 overs.
Damion Waldron, Delroy Fraser and Leon Andrews bagged two wickets each while Keefa Douglas snared 3-11 in a ripping spell to tear out the middle order of GFS.
Skipper, Kwasie Mentore was the only one who seemed settled on the track that was practically unpredictable, hitting two boundaries for the top score of 15. He was the only batsman to reach double figures before Douglas, who troubled him early on accounted for his wicket.
The GDF too found it difficult to bat on the track, crawling to 50-6 in 12.2 overs.
GDF started cautiously with four runs coming in the first over but none off the bat while the second over was a maiden.
Quacy McPherson became flustered by the speed of Grayson Paul who ripped in with a beautiful in swinger that clipped the top of his off stump for a three ball duck. Delroy Fraser seemed to be in a hurry, smacking Andrew Paul for a four and a six off consecutive deliveries to get underway.
Andrews' stay at the crease was short as he chased a wide full toss and spooned a catch to backward point with a diving Andrew Williams going to his left and pulling off a spectacular catch off of Sheldon Phillips.
Phillips removed danger man Waldron in the same over to leave the GDF 18-3 while Terry Fraser edged Phillips to the wicketkeeper, Mentore, still 20 runs behind and four down.  Delroy Fraser was given a life after being put down at short extra cover when on 15 but his partner was run out after straying from his crease the next delivery with the score 5-28 at the half way stage.
GDF were in shambles when Delroy Fraser was trapped leg before wicket for 17 after hitting one four and one six.
However Stevie Petri smacked a six that smashed into the pavilion to end the low scoring thriller in favour of GDF.
Around the Web