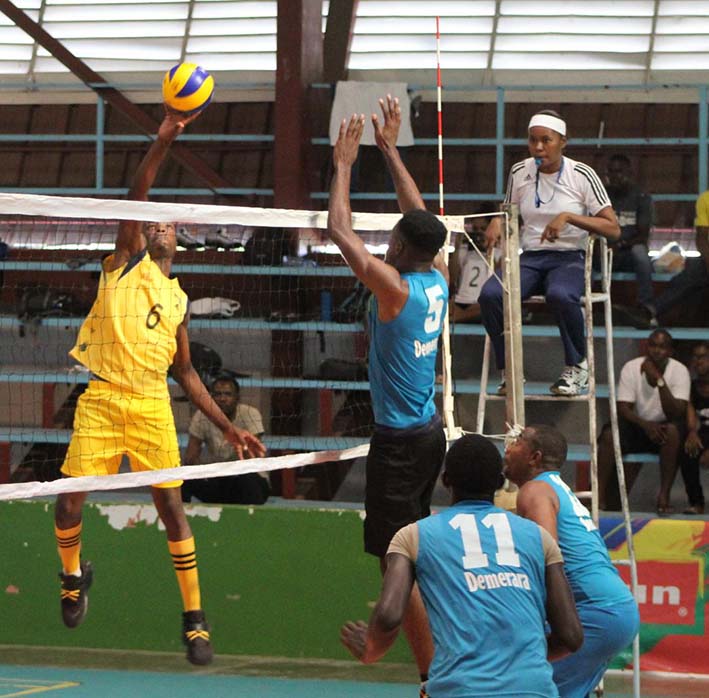 Outside attacker Juan Velazquez is urging his fellow volleyball teammates to back themselves to spring a few surprises in the upcoming South American Olympic Qualifiers set to spike off in Bolivia from May 26 to June 4.
Velazquez, who is a vital cog in the national set-up, spoke to Stabroek Sport on the heels of the training squad being shortalisted.
While he was keen on Guyana using the opportunity to qualify, Velazquez noted that the outing would present a tough examination to pass.
"Since it's a qualifying competition for the Olympics, I think that should be our priority; trying to see if we can steal one of those places," the 32-year-old said.
Velazquez, who was born in Cuba, recently qualified to play for Guyana and while he floats aspirations of Guyana 'stealing one of the places', he was well aware that it will be a difficult task.
"It's going to be hard," he said in his Cuban accent, adding: "You have to remember that we are going to play [against] some of the best teams on the South America continent who are among the five best teams in the world."
Going further to highlight the mountain before the locals, he pointed to the rich volleyball culture in some of countries Guyana will be up against while in Bolivia.
"They eat volleyball for breakfast and dinner, they live for volleyball, so we are at a disadvantage, but we are going to accomplish our goal which is to try to win a game. That is going to be our greatest challenge and to see if we can qualify for the next step and see how far it goes," he articulated.
Guyana is expected to field two pairs of male and female players for the outdoor beach category while full male and female teams will travel to La Paz for the indoor leg of the qualifiers.
The players in the squads, while they are experiencing a few hindrances with regards to their preparation, are working robustly to sharpen their serves and spikes at least three days per week which will intensify in the days leading up to their journey to Bolivia to realize a national Olympic dream.
Men's team shortlisted reads: Ronaldo Bobb, Trevlon McRae, Samuel Fraser, Ian Bagot, Shemroy Ross, Quacy Matheson, Joshua Jagmohan, Juan Velazquez, Geno Carroll, Adriel Moore, Marcelious Hector, Kapil Samaroo, Akeem Bowling, Richard Samaroo, Dester Hoppie, and Devendra Latchman.
Women's team shortlisted reads: Alicia Davis, Kelshine Griffith, Danielle Samaroo, Daniella Collier, Kirenia Ballard, Olivia Welcome, Odile Broomes, Philana Simpson, Candacy Mentore, Hannah Hicks, Famke David, Mercedes Forde, Kim Chan, Cherry-Ann Fraser and Abigail Humphrey
Around the Web