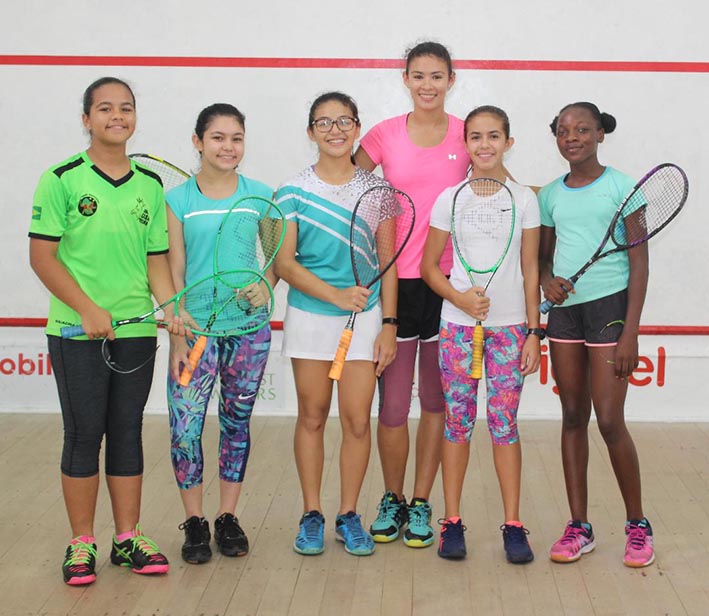 Nineteen-year-old Taylor Fernandes is already back on the squash court after her participation at the recent  Commonwealth Games, maintaining her desire to hone her skills to match her counterparts on the international stage.
Fernandes, who is the reigning Junior Caribbean Squash Queen, failed to medal at the games Down Under but appears unfazed.
She said that she was not at all disappointed but said she wanted a better showing in the Plate (Consolation) category of the games which might have added satisfaction to her experience.
"I'm not disappointed but I wish I'd done a little better… at least gotten to the Plate finals but overall I'm proud of my achievement. I mean, just getting there is big deal and hopefully I can make it again in another four years," Fernandes revealed to Stabroek Sport while at the training facility at the Georgetown Club Squash Court.
She described her first experience at the Commonwealth Games as one which gave her the opportunity to observe the intricacies of the sport at the highest level.
"It was a good experience, watching the pros play," she remarked with an element of delight.
"It was a great opportunity and something that I never got to do so it was really good," she added.
On her list of skills sets which the young player aims to improve upon reflection of her recent performance, is to take stock of her mental approach to the sport.
"I would say my nerves because I tend to show it more than I should, so I need to keep it inside and focus more on my performance and also being more patient. I need to stop rushing shots and just take my time because I can stay in rallies," she emphasized.
Fernandes' relentless efforts to improve her game brings reward beyond the personal realm and inspires the junior female squash players whom she works closely with to prolong Guyana's impressive performances at the Junior CASA games.
"I tell them to have patience, work hard and to have fun. It's not all about winning, just take your time and enjoy it."
She disclosed that her focus for the remainder of the year is to compete at the CAC Games and possibly at the Pan-American qualifiers, which is set to commence later this year.
Around the Web