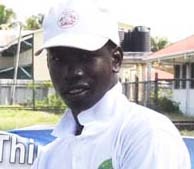 Berbice Under-19 captain Kevin Sinclair has been named the Rose Hall Town Youth and Sport Club (RHTY&SC) Cricketer-of-the-Year while all-rounder Kevlon Anderson copped the runner up award.
The two will receive their prizes when RHTY&SC hosts its 28th Annual Awards Ceremony at the St. Francis Training Center, Port Mourant today.
Sinclair and Anderson took the top spots ahead of  Mariam Samaroo, Junior Sinclair, Keith Simpson, Shemaine Capbelle, Erva Giddings, Eon Hooper, Clinton Pestano and Shabika Gajnabi.
The RHTY&SC will also award Club Captain, Shawn Pereira with the Benefit Year award while Vice President, Mark Papannah, Assistant Secretary, Simon Naidu and  Ravindranauth Kissoonlall, Keith Hicks, Joel Pike, Elizabeth Brusche, Pamela Brusche, Lucy Pike, Navin Raghoo and Sunil Madrimootoo will all be honoured for their dedication to the club.
Nine outstanding Guyanese, Guyana Water Incorporated Chief Executive Officer (CEO) Dr. Richard Van West Charles, Minister Simona Broomes, Businessman Bishwa Panday, Former West Indies Cricketer Roger Harper, Attorney-at-Law Arudranauth Gossai, Harry Dass Ghaness, Poonai Bhiroog, Clerk of the National Assembly Sherlock Isaacs and New Building Society Deputy CEO Anil Beharry will be awarded with the RHTY&SC's highest award, the Dolphin Award of Excellence all of which will be a part of the $2.5 million dollars worth of prizes, trophies, medals, certificates, plaques and special prizes to be shared out.
Among those expected to attend the function is Patron of RHTY&SC, President David Granger who will deliver the feature address.
Rose Hall Mayor Vijai Ramoo, Regional Chairman, David Armogan and Director of Sport, Christopher Jones are all expected to attend.
Club Secretary/CEO Hilbert Foster will give a comprehensive report of the work done by RHTY&SC while unveiling their plans for 2018.
The sum of one million dollars is expected to be allocated to other groups and cricket clubs in Berbice.
According to the club, over the last two weeks they have been able to attract support from numerous donors for the Awards Ceremony including Sueria Manufacturing, Bakewell, A.H & L Kissoon, Chief Brand, Colin Elcock, Namilco, Royal Jewel House, Bounty Farm, Starr Computer, Farfan & Mendes, Kings Jewellery World, HA Snacks, Ministry of Foreign Affairs, National Sports Commission, The Gift Centre, John Lewis Styles, Ronald Williams, Factory Price, Elizabeth Styles, Bissan Trading, P & P Insurance, Nand Persaud Ltd, Roger Harper, Bibi Travel Service, Nermala Hussain, Ryan Tillack, Sham Grocery, Dan Milk Powder and Pike Grocery among others with prizes such as gold jewellery, trips, cricket gear, cellphones and others to be given out.
Around the Web