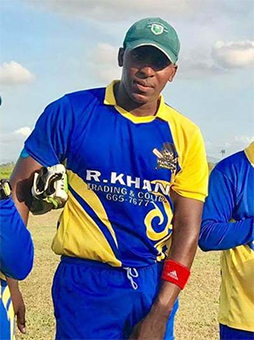 Following Essequibo's unsavory exit from the Guyana Cricket Board/Hand-In-Hand Mutual Fire and Life Insurance Inter-County Under-19 tournament, Coach Ryan Hercules is recommending that there be the introduction of three-day cricket at the club level in the Cinderella County.
Essequibo defeated former champions Demerara by six wickets in the third round, drew against the Select Under-17s in the second round after losing to eventual winners, Berbice in the first round.
In an exclusive interview with Stabroek Sport yesterday, the former national player said it was a good outing for the players from Essequibo who got better as the tournament progressed.
"We went from scoring 80 all out to posting 290-odd and the guys have been bowling exceptionally well," Hercules stated.
It is well known that there is no three day cricket in the county, thus making it difficult for teams representing Essequibo to put up a strong showing when they face teams like Demerara and Berbice who thrive on the longer version of the game.
"If we have the three-day cricket in the county before Inter-County the guys will be prepared for the longer version and will have the necessary tools to go get the job done," Hercules opined.
Nevertheless, according to Hercules the guys gelled well and operated like a family unit, only growing stronger with time.
He is of the opinion that Essequibo can one day lift the title if there is an influx of three-day cricket competitions in the county now rather than most of the players playing the format only at the Inter-County level.
According to Hercules, while the bowling performances have been excellent from the county, the batsmen lack the patience.
"This is something that can be sorted out if there are longer cricket in the county," Hercules emphasized.
With eight zones and roughly eight clubs in each zone, Hercules proposed an Inter-Club then and Inter Zone competitions prior to the Inter-County as a structured system to help develop the game.
However, the former TCL West Indies Regional Under-19 Most Valuable Player said it was not limited to the Under-19 but would be effective if introduced at the Under-15 level.
He said that he is optimistic of the future for the longer version of the game and the prospects of the county winning titles at each level in the not so distant future but is cognisant of the fact that hard work needs to be done.
Around the Web