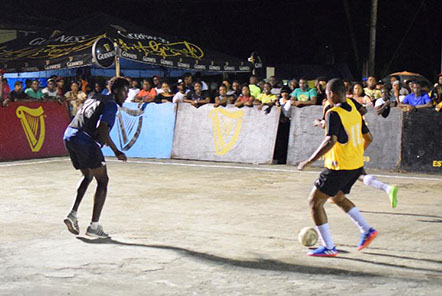 All roads will lead to the Mackenzie Bus Park Tarmac tonight when the quarterfinal round in the Guinness 'Greatest of the Streets' Linden Championship kicks-off.
Defending champion Dave and Celina's will battle Quiet Storm at 19:30hrs in the opening fixture.
The titlist ended in the runner-up position in group-B and will require an improved showing if they are to overcome group-C winner and newcomer Quiet Storm.
In the second matchup, tournament favourite and group-A winner NK Ballers will oppose former champion and runner-up of group-D Silver Bullets at 20:10hrs, in a match that can be considered a final.
The talented NK Ballers unit romped to the top spot in group-A with a perfect record led by a dangerous roster filled with names such as Donovan Francis, Kennard Simon, Keon Sears, Jermaine Grandison and Deon Charter.
On the other hand, their opponent who finished second in group-D, possess an equally formidable squad led by Robin Adams, Damion Williams, Jermaine Samuels and Omar Williams.
In the third match, group-A runners-up Assassa Ballers tackle group-D victor High Rollers from 20:50hrs in a battle of the emerging teams.
Meanwhile, the final quarterfinal at 21:30hrs will be a heavyweight clash when former champion Amelia's Ward Russians oppose last year's losing finalist Swag Entertainment.
The veteran Russians unit, which emerged undefeated from group-B, is led by the dangerous trident of Travis Watterton, Shawn Daniels and Terrence Aaron while the group-C runners-up will look to their dangerous duo of Colwyn Drakes and Shane Luckie, to fire them into the final four stage.
Following the conclusion of the matches, the winner of quarterfinal one will match skills with the victor of game four at 22:30hrs, while the winner of quarterfinal two will oppose the victor of match three at 23:15hrs.
The eventual champion of the event will pocket $400,000 and the championship trophy.
They will also earn an automatic berth to the National Championship while the second, third and fourth place finishers will receive $150,000, $100,000 and $75,000 respectively and the corresponding accolade.
 Complete Fixtures-May 1st
Quarterfinals
(1)Dave and Celina's vs Quiet Storm-19:30hrs
(2)NK Ballers vs Silver Bullets-20:10hrs
(3)Assassa Ballers vs High Rollers-20:50hrs
(4)Amelia's Ward Russians vs Swag Entertainment-21:30hrs
Winners (1) vs Winner (4)-22:30hrs
Winner (2) vs Winner (3)-23:15hrs
Around the Web