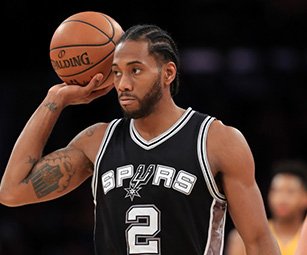 (Reuters) In the wake of a season of mystery surrounding the San Antonio Spurs and injured star Kawhi Leonard, a lengthy ESPN report published yesterday details the complications in the relationship between the two sides and the Spurs' fears regarding Leonard's future.
According to the report, the Spurs are worried Leonard's group — led by his uncle, Dennis Robertson, and agent, Mitch Frankel — have intentionally sought to sabotage the team's relationship with the 26-year-old in order to facilitate a Leonard trade to Philadelphia or a team in Los Angeles or New York.
Robertson lives in New Jersey while Leonard is from L.A., the report notes.
The center of the struggle between the two sides is Leonard's quad injury. The ESPN report details how the Spurs are unhappy with the way Leonard's representation has handled his recovery process, while Leonard's camp is unhappy with the Spurs' unwillingness to let them seek outside opinion.
"The Spurs feel that they hire the best, that they do it better than anyone else," a source close to Leonard told ESPN. "They deserve to have that reputation and that kind of ego. But they're just not very open-minded. They don't like others messing with their players."
Leonard played in just nine games this season, averaging 16.2 points, 4.7 rebounds and 2.3 assists. He was shut down indefinitely after scoring nine points in 28 minutes against the Denver Nuggets on Jan. 13 and never returned despite being cleared to play by Spurs doctors.
For his part, Leonard has indicated he doesn't feel he was ready to play. The two-time All-Star has primarily worked out at the NBA Players Association headquarters in midtown Manhattan, with the Spurs sending staffers to observe and assist as needed.
The report states Leonard's relationship with the Spurs started deteriorating in 2016 when he parted ways with representative Brian Elfus and Robertson and Frankel took over communication with the team. Robertson is described by others as "an ambitious family member trying to parlay his nephew's success into his own marketing company," according to the report.
Leonard has two seasons — one a player option — remaining on the five-year, $90 million extension he signed with San Antonio in the summer of 2015. He is eligible for a five-year, $219 million supermax extension this summer.
According to the report, citing sources on both sides, it is unclear if Leonard will receive such an offer and if he would accept if he did.
Around the Web