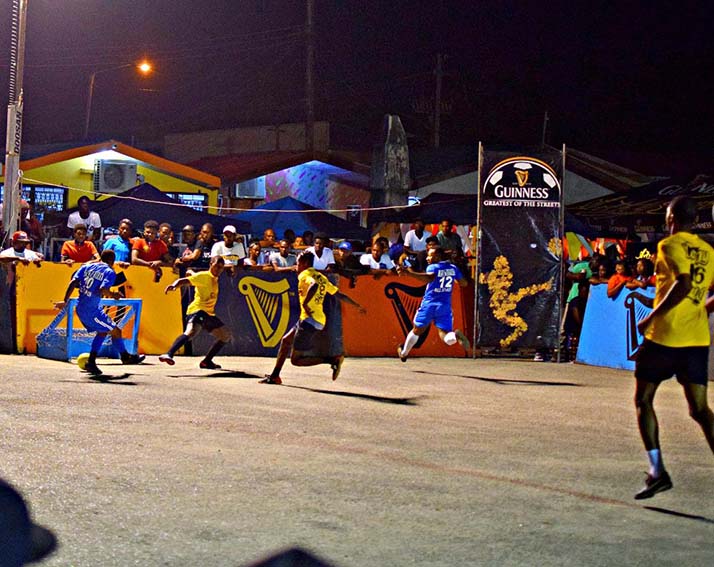 Defending champion Dave and Celina's will oppose Silver Bullets in the finale of the Guinness 'Greatest of the Streets' Linden Championship on Saturday, following semi-final wins on Tuesday at the Mackenzie Bus Park Tarmac.
Witnessed by a large crowd, the titlist edged Swag Entertainment 2-0 on penalty kicks, after regulation and extra time ended 2-2 in a rematch of last year's final.
Mortimer Giddings bagged a brace in the ninth and 12th minute Dave and Celina's while Royston Fraser and Shane Luckie scored in the 23rd and 35th minute respectively for Swag Entertainment.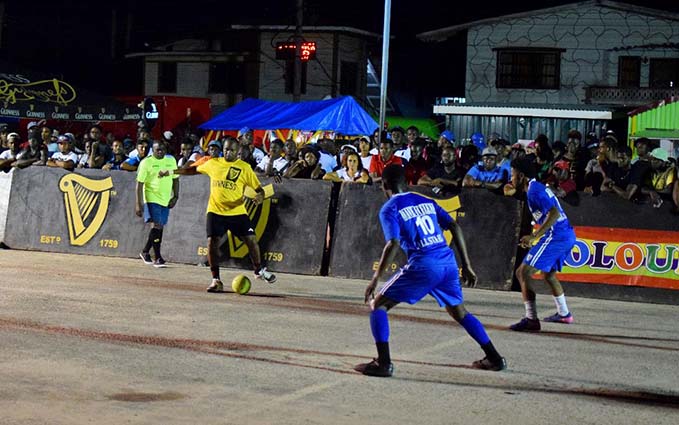 In the other semi-final, Silver Bullets riddled High Rollers 4-0. Jermaine Samuels fashioned a helmet trick in the seventh, 27th and a (GG) in the 38th minute.
The losing semi-finalists will face-off in the third place playoff. In the earlier quarterfinal matches, Dave and Celina's crushed Quiet Storm 3-0.
Alonzo Thurman recorded a Guinness Goal (GG) (a goal scored in the final three minutes counts as two), in the 18th minute, while Rudy Halley scored in the eighth minute.
Meanwhile, Silver Bullets edged NK Ballers 1-0 compliments of a Robin Adams strike in the 10th minute.
Also, High Rollers downed Assassa Ballers 2-0. Qualon Andries and Kendolph Lewis scored in the 14th and 16th minute respectively.
Similarly, Swag Entertainment dismissed Amelia's Ward Russians 2-0. Royston Williams and Shane Luckie scored in the 15th and 17th minute apiece.
The eventual champion of the event will pocket $400,000 and the championship trophy.  They will also earn an automatic berth to the National Championship.
On the other hand, the second, third and fourth place finishers will receive $150,000, $100,000 and $75,000 respectively and the corresponding accolade.
Complete Results
 Guinness Goal-(GG)-2 Goals
 Semifinals
Game-1
Dave and Celina's-2 vs Swag Entertainment-2
Dave and Celina's won 2-0 on penalty kicks
Dave and Celina's Scorers
Mortimer Giddings-9th and 12th
Swag Scorers
Royston Fraser-23rd
Shane Luckie-35th
Game-2
Silver Bullets-4 vs High Rollers-0
Jermaine Samuels-7th, 27th and (GG)-38th
Quarterfinals
Game-1
Dave and Celina's-3 vs Quiet Storm-0
Alonzo Thurman-(GG)-18th
Rudy Halley-8th
Game-2
NK Ballers-0 vs Silver Bullets-1
Robin Adams-10th
Game-3
Assassa Ballers-0 vs High Rollers-2
Qualon Andries-14th
Kendolph Lewis-16th
Game-4
Amelia's Ward Russians-0 vs Swag Entertainment-2
Royston Fraser-15th
Shane Luckie-17th
Around the Web