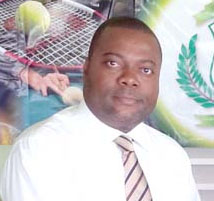 The Guyana Cricket Board (GCB) has appointed Attorney-at-Law Stephen Lewis as the new Cricket Ombudsman.
The decision was made at the Board's Extraordinary General Meeting, held May 3rd at the GCB's boardroom, a press release from the GCB stated.
"The filling of the vacant position was undertaken by a voting system, which witnessed Attorney-at-Law Stephen Lewis and Mr. Cecil Kennard vying for the position," the release stated.
It added: "Attorney-at-Law Stephen Lewis was the most successful candidate gaining a majority of the votes, and was duly appointed Guyana's Cricket Ombudsman." According to the release Lewis has served the GCB before and as such is acquainted with its constitution.
"Lewis began reading for an LLB, Law degree at the University of Guyana (2002), after which he graduated from Hugh Wooding Law School, in Trinidad (2005).
"He is no stranger to the GCB with him having served as a member of the GCB Disciplinary Committee for multiple years through which he clearly became acquainted with the constitution governing the GCB.
"Not only was he affiliated with cricket, but he served on the electoral panel at the Guyana Football Federation. As a consequence, delegates at the recently held GCB's extraordinary meeting saw him qualified for this position.
"Lewis is expected to fulfil his duties using his knowledge and proficiency in law and legal operations of the GCB; he will be tasked with conducting the verification of cricket clubs across Guyana and to ensure that elections are properly constituted.  "He will also act as the returning officer, where deemed necessary. In addition, Mr. Lewis was recognized for his previous designation of President and Vice-President of the Everest Cricket Club," the release added.
The first Cricket Ombudsman was Dr. Winston Mc Gowan but he has since resigned.
"This appointment was due to a vacancy which existed since Dr. Winston McGowan's resignation from the said position. The appointment of the Ombudsman is another indication of GCB's effort to professionally administer cricket across Guyana; is expected win favor with all cricket stakeholders. The GCB would like to wish Lewis all the best and looks forward to him diligently delivering his role as Cricket Ombudsman," it concluded.
Around the Web