Team Coco's Jamal John held off a fast finishing Curtis Dey (Trojan PSL) to claim the Indian Arrival Day 60-mile road race in thrilling fashion yesterday in New Amsterdam.
John and Dey along with Ajay Gopilall and Christopher Griffith had attacked with 14 laps to race and proved to be the strongest riders of the last break of the day.
Gopilall joined John and Dey on the podium while Griffith, Paul DeNobrega and Alonzo Ambrose completed the top six rewarding positions.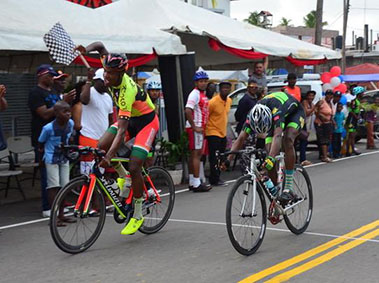 John won the 20-lap event which started and ended on the newly resurfaced Main Street in one hour, 40 minutes and 42 seconds.
Besides the winner's trophy, John also pocketed five of the 20 sprint prizes that were up for grabs.
17 year-old Gopilall who was grazed by a motorcycle during the race, snared six sprint prizes. Four apiece went to Dey and Griffith while DeNobrega took the other.
Holding a narrow lead over the small bunch, it was a nervous finale for the hometown lad Gopilall and the spectators that lined the streets.
With the finish line in sight however, John used his superior sprinting prowess to gain a small gap over Dey, Gopilall and Griffith as a slight hesitation in the chase played into his hands. Dey had the best sprint in the latter part of the chase but the move was left too late as the Team Coco's standout had time to sit up and celebrate the win by a wheel.
Gopilall, Adelie Hodge and Brighton John were the top three juniors. Paul Choo-We-Nam, Junior Niles and Alex Mendes finished 1-3 in the veteran category for the second annual fixture which was organized by Trojan PSL and the Berbice Chamber of Commerce and Development Association. The Cycling season continues on Saturday in the National Park. (Emmerson Campbell)
Around the Web