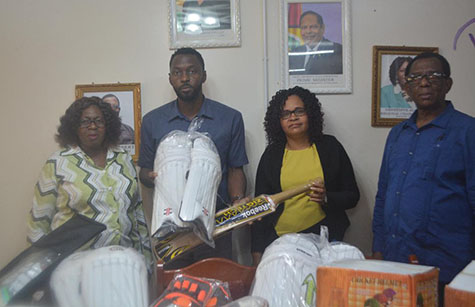 The National Sports Commission (NSC) through Director of Sports, Christopher Jones, has donated a quantity of cricket gear to be used in the inaugural Regional Democratic Council (RDC)/Lloyd W. P. Briton/ Regional Executive Officer (REO) Inter-Secondary Schools Cricket competition.
At a simple ceremony in the REO Region Four Boardroom on Thursday, Jones presented the equipment which included bats, pads, helmets, wicket-keeping and batting gloves to the organisers of the tournament which bowls off on May 14.
Jones, on behalf of the NSC, congratulated the organisers for assisting with the development of sports locally and urged them to continue to keep youths meaningfully engaged.
"This is an excellent initiative and as the Director of Sports I would like to congratulate the RDC Four on such an initiative as this augurs  well for the holistic sports development within our country," Jones said while noting that such a competition is important in further developing and preparing young cricketers skill and talent, stressing that this may result in several of the players in the competition moving on to either play in the future for Demerara, Guyana or ultimately the West Indies team.
Receiving the contribution on behalf of the organisers were Regional Chairman, Genevieve Allen, Regional Vice Chairman, Earl Lambert and REO Pauline Lucas.
Jones added that the Regional Chairman had been relentless in garnering support from the NSC and it is through this determination that the NSC pledged continued support for the tournament while testifying the passionate support the REO has when it comes to sports and youth.
REO Lucas thanked the NSC for its timely contribution stating, "Some weeks ago this was an idea that we at the region decided to make a reality. I would like to express our sincere gratitude to Christopher Jones and the NSC because they have stepped in at the right time with the right gear, thus ensuring that this competition can be a reality. I am forever grateful to the Director of Sports because he has ensured that we receive these gear, while lending assistance in other areas, thus ensuring that this competition will become a successful one."
Lucas gave the assurance that the competition will be an annual feature during the Independence period and said that she hopes to include a number of the private secondary schools next year.
The competition which will be coordinated by former West Indies cricketer Reon King, will be a 40-over hardball contest and will see 16 teams battling in a knockout format for the title across two grounds, the Enmore/Hope Cricket Ground and the Lusignan Community Center Ground both of which are on the East Coast of Demerara.
On the opening day, Ann's Grove Secondary will face Hope Secondary at Enmore while Lancaster Secondary will go up against Beterverwagting Secondary at Lusignan.
Matches will be played every day until May 19. The semifinals will be contested on May 21 with the third place play off and final on May 23 and 24 respectively.
Around the Web