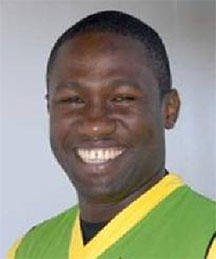 The West Indies Players Association (WIPA) says it is looking into the matter where national players from Guyana are required to sign contracts given to them by the Guyana Cricket Board (GCB.
According to information reaching Stabroek Sport, players from the national U15 and U17 teams were made to sign the contracts in the presence of their parents and even members of the national senior team are aware of the existing contracts.
Efforts to solicit a comment from officials of the GCB have so far proven futile but former West Indies player Wavell Hinds, who is now president of WIPA, when contacted said, "The matter is being dealt with."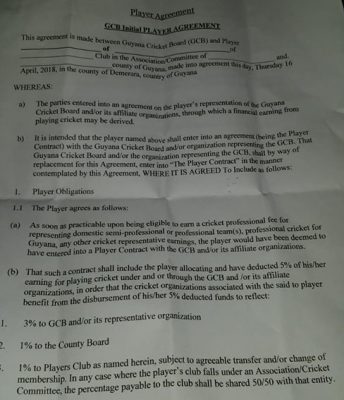 When pressed further, Hinds said "WIPA is in discussion with CWI (Cricket West Indies) and the GCB about the matter."
A copy of the 'Player's Agreement' seen by Stabroek Sport, requires players to agree for the GCB to deduct five per cent of their earnings.
"The parties entered into an agreement on the player's representation of the Guyana Cricket Board and/or its affiliate organization, through which a financial earning from playing cricket may be derived," parts of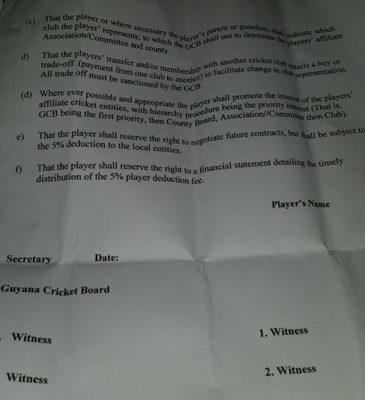 the agreement states.
"As soon as practicable upon being eligible to earn a cricket professional fee for representing domestic semi-professional or professional team (s), professional cricket for Guyana, any other cricket representative earnings, the player would have been deemed to have entered into a Player Contract with the GCB and/or it affiliate organizations,"  it added.
It's not clear what comprises "other affiliate organizations."
The agreement further states: "that such a contract shall include the player allocating and have deducted 5% of his/her earning for playing cricket under and or through the GCB or its affiliate organization, in order that the cricket organization associated with the said player benefits from the disbursement of his/her 5% deducted funds to reflect:
1.    3% to GCB and/or its representative organization
2.    1% to the County Board
3.    1% to Players Club as named herein, subject to agreeable transfer and/or change of membership. In any case, where the player's club falls under an Association/Cricket Committee, the percentage payable to the club shall be shared 50/50 with that entity.
A senior national player who spoke yesterday on the condition of anonymity claimed that a WIPA representative had told them not to sign the contract with the GCB since the GCB has not entered into any negotiations with WIPA on the issue.
Stabroek Sport also contacted a practicing Attorney-at-Law who perused the document and told this newspaper that the 'agreement' appears to be a breach of the constitutional rights of the players.
He also pointed out that there were no termination clause in the agreement adding that the document does not explicitly state what the terms are or for how long the players will be bonded for.
Around the Web