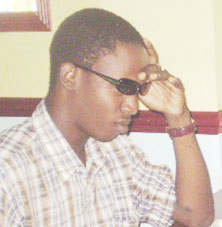 Candidate Master, Wendell Meusa and Attorney-at-Law Yolander Persaud remained undefeated in their respective divisions as the third round of the Guyana Chess Federation (GCF) May Open tournament concluded at the National Aquatic Center, East Coast Demerara yesterday.
Meusa, who entered the third round tied on two points with  Glenford Corlette after earning a walk over from Roberto Neto, defeated  Corlette to move to the maximum three points.
He later told Stabroek Sport that the competition was getting stronger, adding that the tournament for him was part of his preparation for an upcoming tournament in Jamaica.
Davion Mars, who defeated Saeed Ali and Corlette but drew with Loris Nathoo is second on two and one half points.  Corlette, Neto, Marcellus Cornelius and Calvin Giddings are on two points each.
Meanwhile in the female category, Persaud secured a third round win over Waveney Johnson to close on three points while Johnson is yet to get off the mark.
Chelsea Juma and Sasha Shariff are on one and a half points each.
The tournament is played in a round robin style for the females.
According to Persaud, who is also an executive of the GCF, the tournament functions as a means of scouting the young talent since the national female team is preparing for the upcoming Chess Olympiad?
Missing from the tournament is Elisha Johnson who has exams. The tournament continues on Wednesday at the same venue from 05:00h
Around the Web