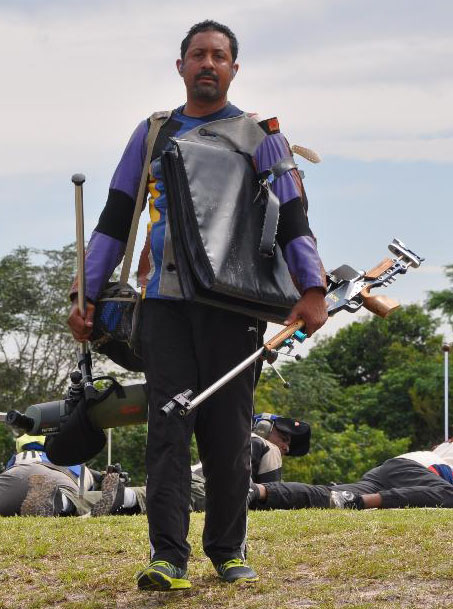 Preparations for a successful defence of their Short and Long Range titles at the West Indies Fullbore Shooting Championships (WIFBSC) is almost complete ahead of this year's championships billed for the Paragon Ranges, Christ Church, Barbados from May 20.
This is according to Vice Captain of the Guyana National Rifle Association (GuyanaNRA) Fullbore section, Dylan Fields who disclosed that practice
session have been going well over the past few months, adding that he is extremely pleased with the way the training has been progressing Fields stated that an
adjustment will have to be made owing to the absence of star shooter and national Fullbore Captain Mahendra Persaud who is recovering well following a brief period of illness.
"But what I am seeing with the team is positive and the morale is quite high at the moment.
We have been shooting all ranges in the last few months but we have been doing team match simulations for the past two weeks."
Fields also disclosed that there is one more session remaining based on the preparation plan and that is set for this Sunday at the Timehri Rifle Ranges.
Meanwhile, the GuyanaNRA fundraising raffle is set to be drawn this Saturday at the Industrial Safety Supplies Inc., compound, 226 Camp Street, Georgetown. The raffle was
originally set to be drawn on April 7th but the association decided to extend the time to this Saturday, persons who would have
purchased tickets are asked to take note.
The following prizes are to be won: 1st (One 125CC Motorcycle – Jailing Guyana), 2nd (One 8HP Outboard Engine – Crown Mining Supplies),
3rd (One 50″ Flat screen TV – Industrial Safety Supplies), 4th (One Refrigerator – Queensway Security) along with Ten (10) Consolations prizes.
Modern Optical Service contributed towards printing of the raffle books.
Around the Web